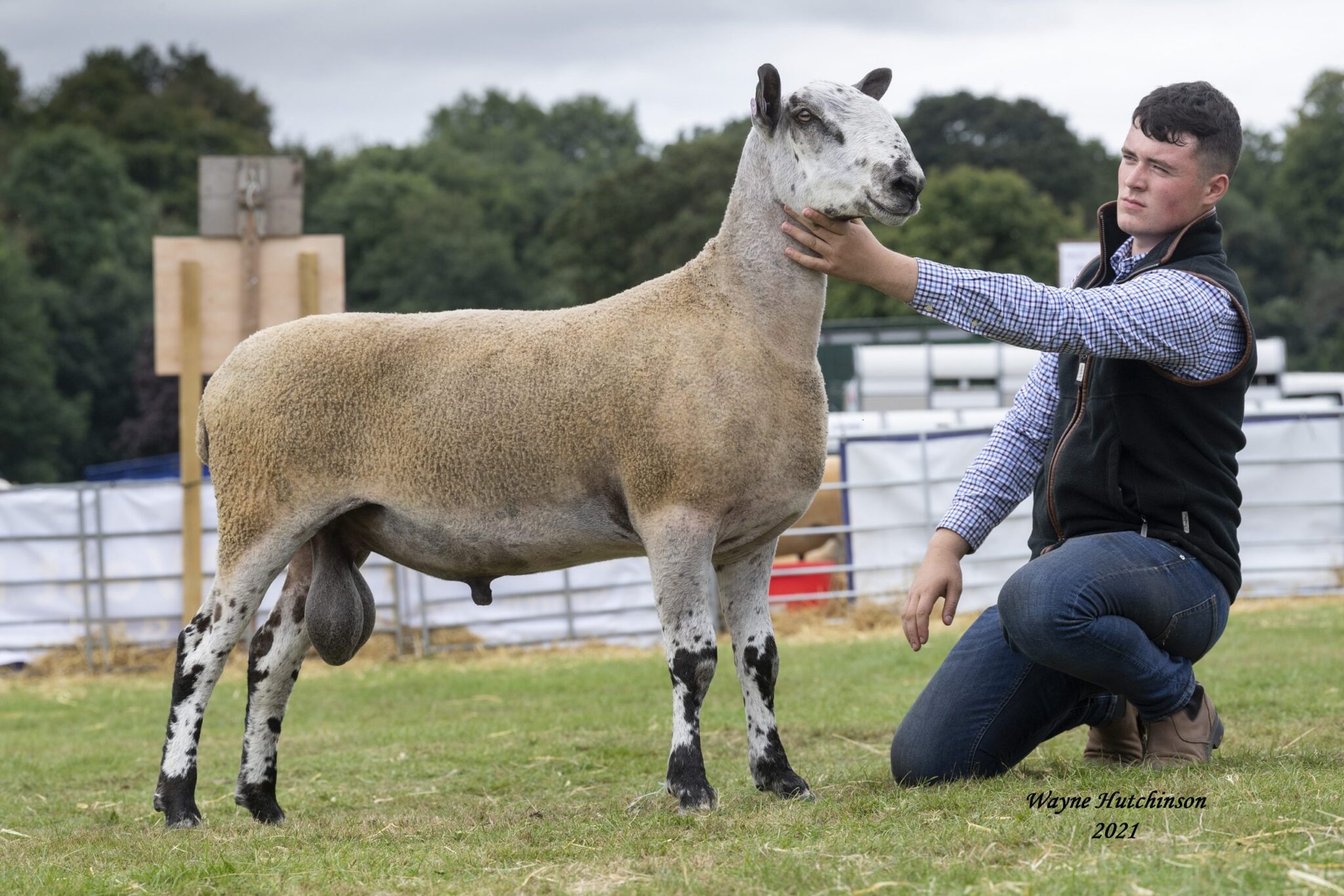 Kelso Ram Sales – Crossing Type
10th September 2021
Kelso
Kelso Ram sale
Kindly sponsored by Tom Stevenson & Natural Stockcare and NFU Mutual (Lanark Branch)
It was a welcome return to the Border Union showground in Kelso after the world-famous sale was scattered throughout Scotland and the North of England last year. There was a different atmosphere this year as the marquees normally covering the sheep pens were conspicuous by their absence, and the weather played its part by behaving kindly, as pre-sale worries were mainly concerned would it be too hot or even too wet? Trade in both Bluefaced Leicester rings was brisk with the hammer falling rapidly on each lot, with buyers not hesitating to bid. Compared to the last sale held in 2019, shearling numbers were slightly down, but, on the back of tremendous breeding sales for all kinds of mules, the averages were up nearly £280 with a massive clearance rate through both rings.
On the back of some tremendous sales amongst the mule gimmer lambs over the last couple of weeks, trade for the crossing type of Leicester was always going to be something special. Although top price in the section didn't reach the heights of other years, the demand saw a great trade in those middle sections with any number of tups between £2000-£4000.
Topping the days trading was a strong shearling from Alec and Anders Brown, Macqueston with a powerful tup shearling by Midlock L18, a son of Mustang that they paid £3000 for.  They used this lad at home, and he put a lot of lambs in the flocks' top 3 pens which saw them take the Reserve Champion at Castle Douglas and levelled at £154 for 380 gimmer lambs. They equalled their best at Kelso with the hammer dropping at £5200, selling to Dougie Fleming, with the idea to use him over the Parkgatestone flock which he recently bought from the Cunninghams who were selling at Kelso for the last time, after first registering their flock 40 years since in 1981, bowing out this time with a canny trade near the end of the sale.
Hard on the heels of the Macqueston consignment was the Happrew flock when they took a bid of £5000 from Phil Teasdale for a strong shearling, Happrew N12, by the £15,000 H2 Carry House, which has already sold sons to £6000 and out of a ewe by K27 Riddings which is proving a good breeder. The Campbells' run a flock of 700 homebred mule ewes but are noted for their quality of their ewes. They saw another hit £4000, this one by M6 Blarnavaid, which they paid £3500 for at Hawes a couple of years back. He is out of a ewe by the £9000 Duhonw that has done well for the flock. This one sold to the Tinnis flock from Messrs McClymont. The pen ended the sale with figures of £2166 for 9 forwards.
Obie Sharp and her team always present a great pen of tups at Kelso and this year was no different. The pen was full of powerful tups, with great crossing bloodlines flowing through them. The pen leader was an immense beast by the H2 Carry House, same as the Happrew tup and out of a ewe by the K1 Duhonw. Bidding was sharp for this boy and the hammer fell at £4600, selling to Messrs McPherson, Achdregine. The Newbigging Walls pen sold 10 shearlings to average £2000 on the nose.
Midlock are never far away from the top spots and again their pen enjoyed a good trade, with their reputation for brining out top notch tups well known in many circles. Their pen leader was a son of the old legend, Midlock Mustang, out of a ewe by C2 Hewgill. He sold for £4200 to Messrs Dobson, Bishop Auckland. They saw their 13 shearlings level at £2030 and 3 lambs averaged out at £1366 to complete a strong day's trading for Allan, Ben and the reast of team Midlock.
Whilst Kelso has always primarily been a shearling sale, there were 30+ Blue Faced Leicester lambs forward and topping the trade with these was Jimmy Bell from the Cottage flock with 3331/P019.  This was by the homebred K13 tup which was sired by the £12,000 E1 Smearsett, and its mother was by D13 Cottage which went back to a C24 Highberries ewe. This sold for £2800 to Lilburn Estates, Northumberland.  The Cottage flock also topped the lamb averages at £1483.
Sale Averages from Kelso Ram Sales – Friday 10th September, 2021
Ring 15
208 Shearlings sold – avg £1285.10
28 Ram Lambs sold – avg £892.86
Ring 17
216 Shearlings sold – avg £1210.37
4 Ram Lambs sold – avg £837.50
Gallery
Back to Archive