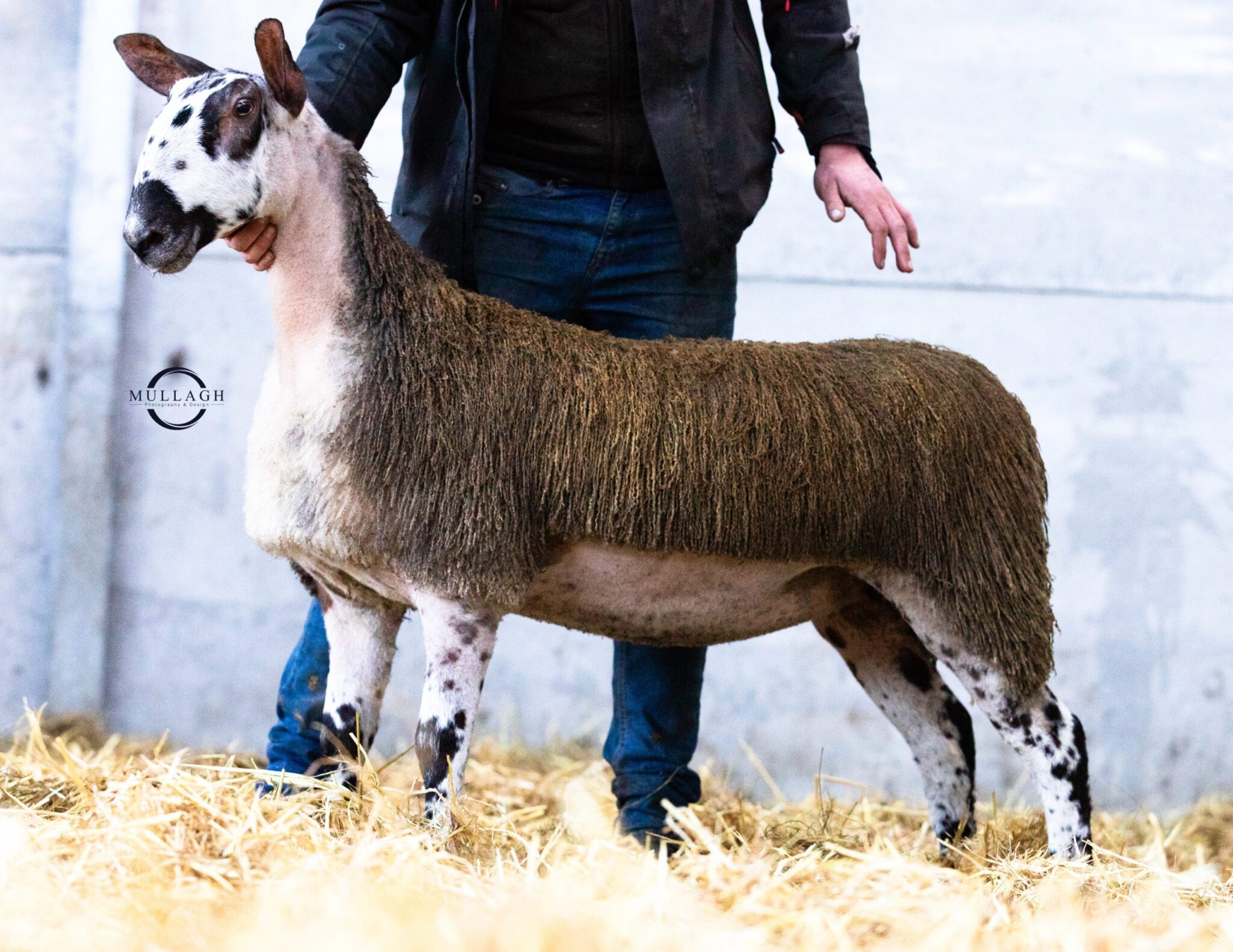 NI Ballymena Female Sale – 9th January 2023
9th January 2023
Ballymena
Mr Adam Porter, Braeburn
Northern Ireland Female Sale – Ballymena Mart – Monday 9th January 2023
A filled ringside complimented with online bidders the premier female sale met a plain trade for in-lamb sheep and ewe hogs.  The buyers stretched as far as the southern region, with a growing demand for the traditional types and those crossing types that shone through on the evening.
Topping the day's trade was a cocky, correct hogg from Jimmy Mills from the Ballytober flock.  A full sister to the 2022 Balmoral Champion, this classy lady collected first in her class and overall Champion on the night.  Adam Porter from Braeburn flock the judge on the night had no hesitation in his selection. This hogg certainly caught the eye of many buyers, but Jack O'Neill from the Bluebell Wood flock, followed through, settling the hammer at 2100gns. This stylish hogg is by the N4 Blarnaviad and the flock's most influential females lines. The Brague consignment on the night were in popular demand, the traditional bloodlines saw Kim Coleman collect first prize in-lamb gimmer and topping the in-lamb trade at 1800gns. This sweet sheep by M25 Kirkstead was carrying triplets and sold to the region's newest and youngest member, Archie Henry with his new prefix Caherty. The whole pen gained plenty of interest, underlining the growing popularity and versatility of these types.  Kim, also featured with her fourth prize sheep, with the same breeding bloodlines, Michelle Wright from the Mullaghwee Flock caught the winning bid at 1100gns.  Introducing this new bloodline into the flock will broaden the menu for our ram sales come September.
Followed closely behind our champion and top priced sheep was G & J Loughrey with their ewe hogg.  The flashy sheep strode into the ring and her presence saw a bidding war.  A very modern type sheep had perfect colouring and skin, bred from Temain L41 which was Balmoral Champion as a Lamb and by M1 Riddings really testified the strong crossing lines of the sheep. An asset to any flock, this one was bought by Steven Kerr for 1700gns, as a renowned mule breeder, this one will surely tick all the boxes.
The Aughboy flock always offer a great pen of sheep at the January sale and this year was no different. Collecting reserve overall champion for their second place hogg really highlighted their quality.  Their N10 Gaints Causeway ewe, in-lamb to 10k P24 Temain featured on the night.  With bidding ending at 1250gns this terrific, blazing lady will be traveling south to D. Clinton in Monaghan. Determined to land the final bid for this tasty lot will prove advantageous to their flock bloodlines.
With a large selection of high quality lots, bidders could be selective and didn't have to dig too deep.
Sale Averages:
10 Aged Ewes @ 600gns
12 Gimmers @ 745.83gns
32 Ewe Hoggs @ 474.38gns
Aged Ewes
| Placing | Class | Exhibitor | Flock Name | Lot Number |
| --- | --- | --- | --- | --- |
| 1st | Aged Ewes | B McAllister | Aughaboy | 1 |
| 2nd | Aged Ewes | A & D McKillop | Giants Causeway | 37 |
| 3rd | Aged Ewes | I Montgomery | Mistyburn | 23 |
| 4th | Aged Ewes | D McCrystal | Drummuck | 89 |
Gimmers
| Placing | Class | Exhibitor | Flock Name | Lot Number |
| --- | --- | --- | --- | --- |
| 1st | Gimmers | R Mulligan | Brague | 72 |
| 2nd | Gimmers | A & D McKillop | Giants Causeway | 33 |
| 3rd | Gimmers | A & D McKillop | Giants Causeway | 35 |
| 4th | Gimmers | R Mulligan | Brague | 73 |
| 5th | Gimmers | C Butler | Glenmakeeran | 60 |
Ewe Hoggs
| Placing | Class | Exhibitor | Flock Name | Lot Number |
| --- | --- | --- | --- | --- |
| 1st | Ewe Hoggs | J Mills | Ballytober | 27 |
| 2nd | Ewe Hoggs | B McAllister | Aughaboy | 2 |
| 3rd | Ewe Hoggs | A Butler | Rowan Tree | 52 |
| 4th | Ewe Hoggs | I Montgomery | Mistyburn | 22 |
Bluefaced Champions
| Category | Exhibitor | Type |
| --- | --- | --- |
| Overall Champion | J Mills | First Prize Ewe Hogg |
| Reserve Champion | B McAllister | Second Prize Ewe Hogg |
Gallery
Back to Sale Reports