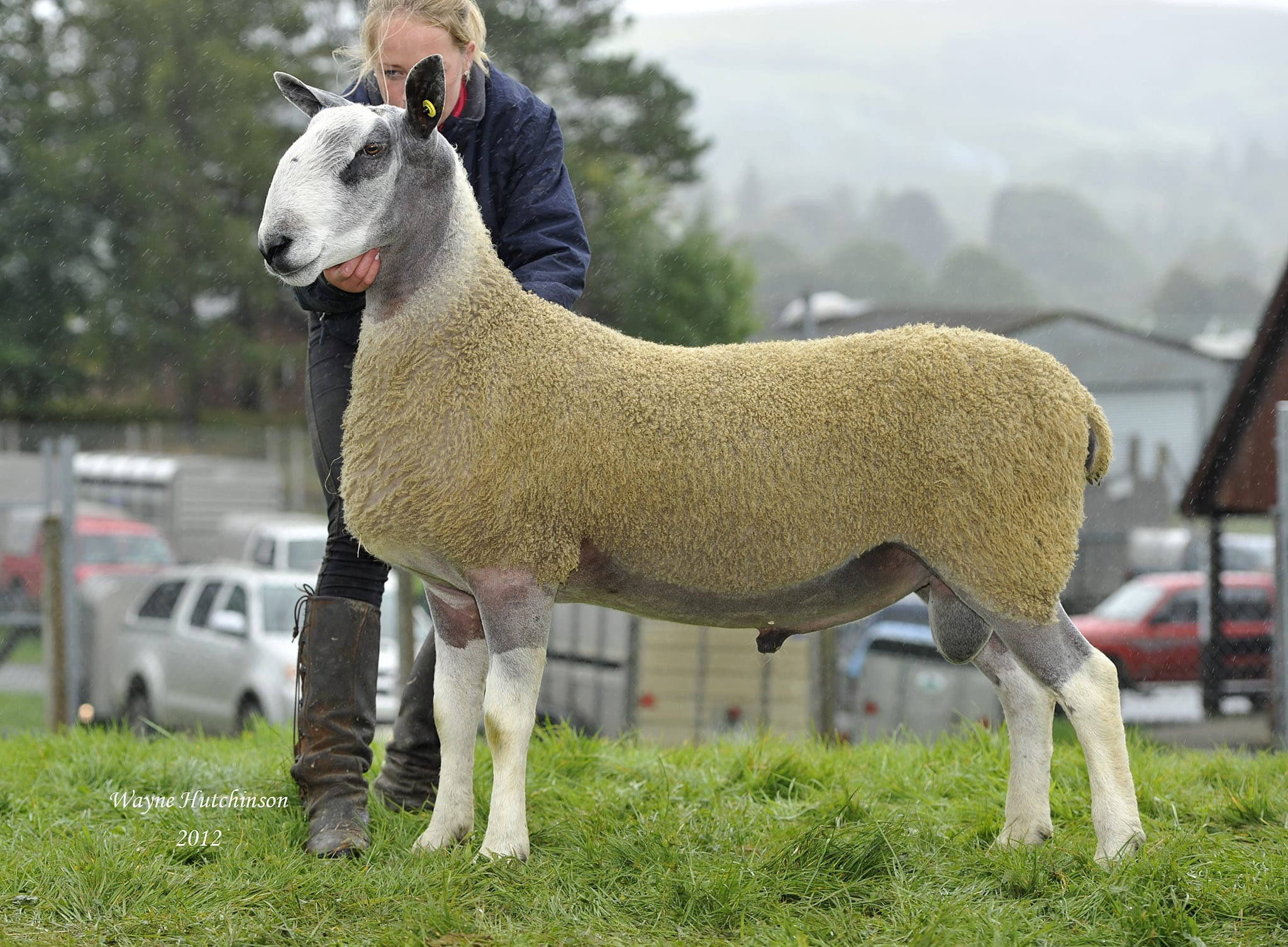 NSA Wales & Border Ram Sale – Builth Wells
24th September 2012
Builth Wells
Mr A McClymont, Kirkstead, Mr D Raine, Old Parks
Judges Alan McClymont and David Raine had their work cut out at the pre sale show held on the Sunday evening, but there was one sheep which stood head and shoulders above the rest of the field, walking away with the championship tickets and a lot of acclaim in the process. Such was his prescence and style, Alan McClymont couldn't resist dipping into his wallet for this cracker from Sophie and Ray Harding's Shrewbridge flock. D17 Shrewbridge is a son of the £7000 B1 Middle Dukesfield bought at Carlisle a couple of years ago and is out of the full sister to a ewe Sophie sold to Cocklaw for £5500 a number of years ago. Alan McClymont bought the tup for 6800 gns in partnership with Alan Cowens from the Philliphaugh Estate, setting a new high price for this renowned flock.
With over a hundred extra tups at the sale buyers could afford to be choosy, and the next highest price trailed somewhat in the wake of the Shrewbridge shearling, but it was a classy tup lamb from Aled Jones, Craig yr Orsedd, which fetched the next highest price. He stood first in the lamb class and Reserve Champion overall, reflecting the quality of the judging. There are some great bloodlines running through this lamb too, his sire B1 Arkleby, bred the winning three tup lambs at the Welshpool Progeny Show this year and his dam's sire, A26 Shrewbridge took the honours in the aged ram class at the progeny show too. It was William Ingram, Logie Durno, taking this lamb for a long ride to Aberdeenshire, after bidding him to 2900 gns. Aled had a canny do with his shearlings too, with his top reaching 2000 gns for D2 'E' Craig yr Orsedd, an A26 Shrewbridge sired tup, out of a ewe by T29 Scrainwood, which has helped develop Aleds flock really well over the last few years. He was bought for the Lilburn flock up in Northumberland.
Another bid of 2000 gns saw the Long Mynd flock of Paul Howell sell a tup lamb out of a ewe by W2 Cassington he bought at the late David Cruickshanks dispersal sale and sired by another Cassington ram. The Shropshire based Long Mynd flock also took the Female Championship with a Gimmer lamb by C1 A E Water and out of a ewe by V2 Mossvale, one of the flocks most consistent breeders.
The Elian flock have a good reputation at the Builth sales and they again came out with a good pen, topping at 1550 gns for a tup lamb by B1 Lowes Fell which they bought out of Hexham and out of a ewe by Y12 Rosehill. Again, this boy travelled north, selling to father and son partnership of Derek and David Henderson, Burndale and North Burndale. Elian sold 40 tup shearlings to average out at £800, reflecting the demand for strong well grown sheep.
Buyers were picky, mainly as a result of the plentiful supply of rams, and it was hard work selling the bottom end, with buyers consistently looking for powerful correct type of rams, with good mouths and skins. And despite of the serious downpours the atmosphere was never dull and the ring was well packed.
Gallery
Back to Archive