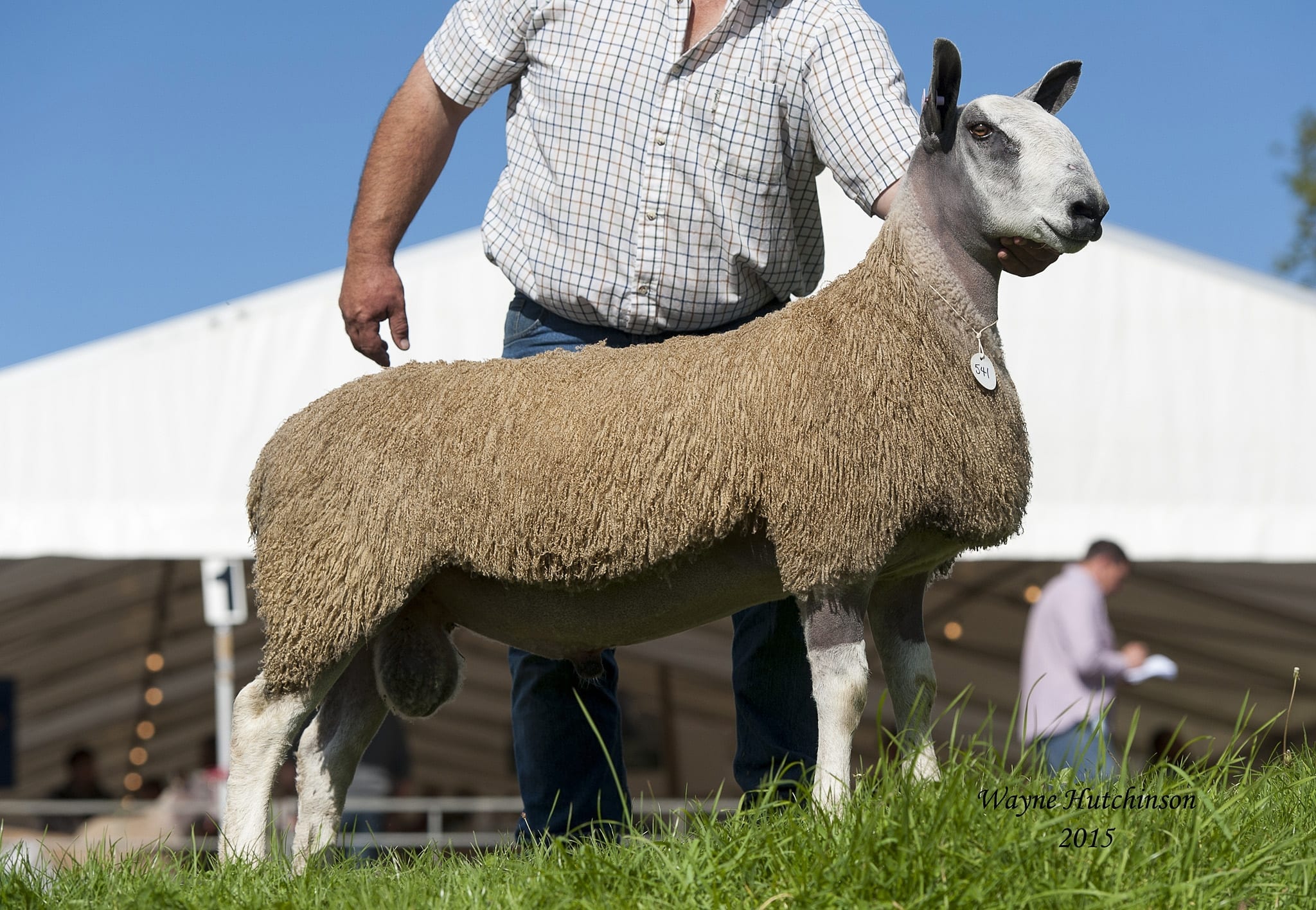 NSA Wales & Border Ram Sale
21st September 2015
Builth Wells
Mr C Armstrong, Broomhills, Mr I Smith, West Bolton
Once again a bumper show of sheep were on offer at the Builth Wells sale, with some cracking sheep from all over the UK. It is a venue noted for strong powerful sheep and the rams on offer didn't disappoint, with buyers looking for strong sheep with conformation.
Trade reflected the state of the sheep industry as a whole and bidding was subdued, with buyers being cautious about parting with their cash. A lot of good tups were finding new homes for between 500-750gns, where normally they would have been heading towards the 1000 gns mark. There was a big turnout however and tups were definitely in demand, just at a reduced budget.
Topping the day's trade was a tup lamb from the Lower Down flock from Ted Williams who has been selling at the Builth sale since its inception some 35 years since along with his mother Jacquie, who is a past chairman of the Association. He runs 22 Bluefaced Leicester ewes in the Shropshire Hills on his beef and sheep unit, and his lamb H3 Lower Down was his pick of this year's crop. Sired by the G7 Piel View he bought last year at Builth for 1300 gns, after it was part of the winning progeny team at Penrith earlier last summer for Scott Thomason and out of a ewe by the 6000 gns B4 Broomhills. He headed north to the Burndale flock run by Derek Henderson for 3900 gns.
Close behind, both through the ring and in price was a bid of 3400 gns for H1 Myfyrian from M C Roberts, with lovely sweet lamb, with a great outlook, combining some good bloodlines with a well-balanced sheep, long and with a great skin. He is by E1 Red Cottage, same as the Res Champion at Longtown from Mosser Mains, with whom they share him and out of a ewe by Y1 Cernyw E+ who has done so well in the flock. This lamb was sold to Matthew Seed, Auchry flock.
The champion came from Michael and Nikki Gray from the Espley flock, making their debut at the sale, and they enjoyed a great day with their two tup lambs, taking first and second place in the lamb class. Being first lambs into the ring didn't hurt their trade either. The champion had previously taken the red tickets at three shows earlier in the season, up in Wooler, Peebles and the Border Union. He is by the 8500 gns F2 Ashes and out of a great breeding ewe by C15 Grugoer E+. Interest in him was strong and the final bidder was Sophie Harding for the Shrewbridge flock, shelling out 3000 gns for him. The second prize lamb, who had always been in the champions shadow at the other shows too was the same way bred and sold for 2100 gns.
Sophie and Raymond recouped some of their outlay when they sold their 1st prize shearling, which was also the reserve champion, for the top price in the shearling ring, selling G5 Shrewbridge for 2800 gns. Unshown before today, he is by the 7500 gns Long Mynd tup bought out of Carlisle and out of a very smart ewe by B1 Parton. He is a strong shearling with good clean lines, and sold to M/s Morris, Caernarfon.
Other prices saw the Elian flock from Dewi Williams, sell to 2300 gns, and he enjoyed the trade of the day with 50 (yes, Fifty!) shearlings average out at £1117, backing the observation that power is king. His pen was full of immense sheep, with power and conformation throughout, with many shepherds marvelling over the sheep.
Matthew Seed again made the long journey from Turiff to sell his sheep. His pen topper this time was a lamb by G2 Craig Yr Orsedd out of a ewe by Y4 Muiredge, with an index of 158Q, selling to the Elian flock for 1650 gns.
The Arthur Yates trophy for the best pen of sheep went to Aled Jones from the Craig Yr Orsedd flock, His pen of sheep was a credit to him, well grown and turned out to perfection. They were very smart sheep, with tremendous skins. His top sale of the day was 1800 gns for a shearling by the homebred E25 out of a ewe by W3 Plas y Ward E+. He also saw a tup lamb, H1 Craig Yr Orsedd make 1100gns.
Hopefully the sheep trade will pick up before next year and the trade will bounce back.
Gallery
Back to Archive