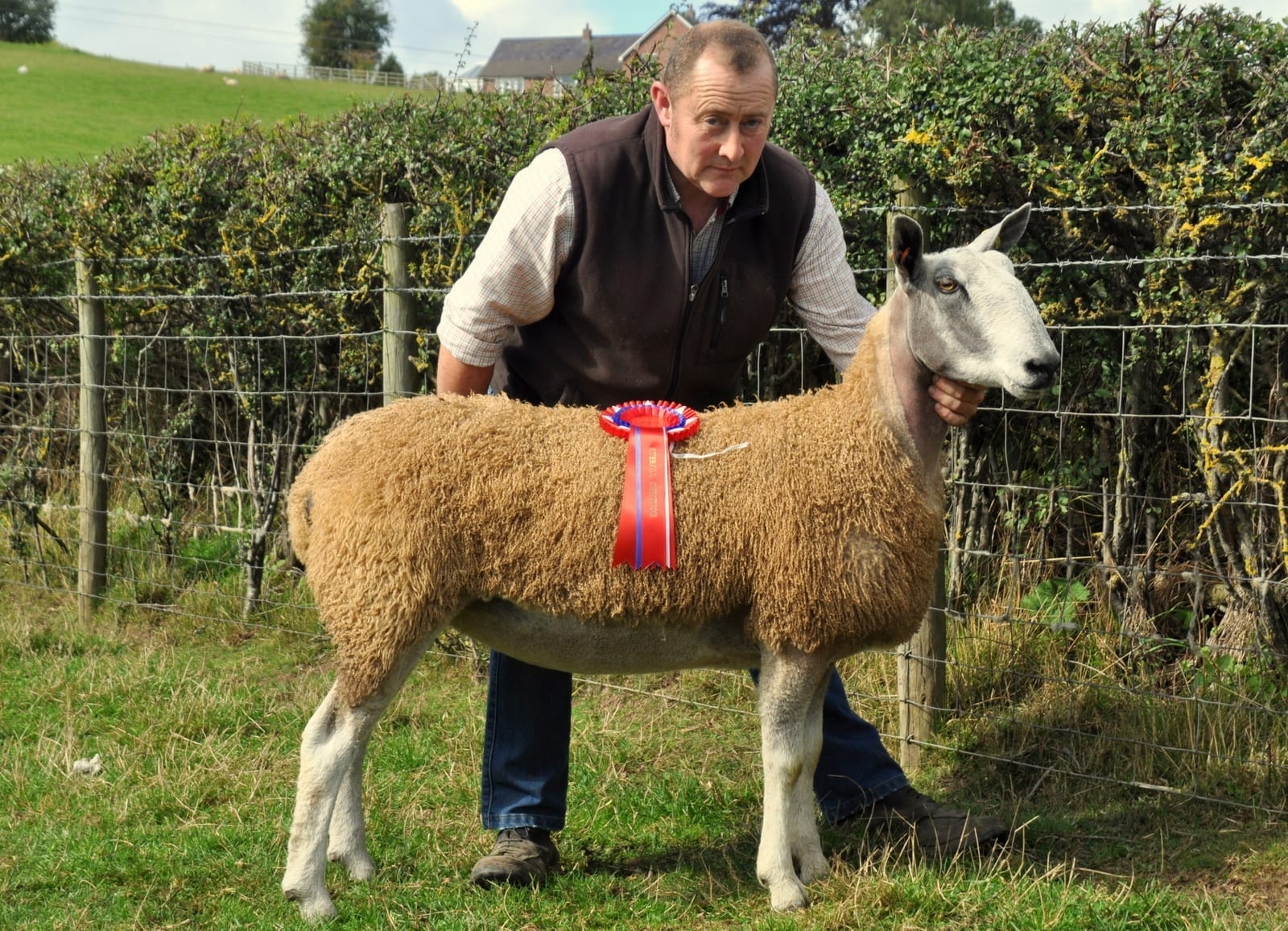 Ruthin Ram & Female Sale
24th September 2015
Ruthin
Mr S Lane, Mynydd Glas
Ruthin Farmers Market hosted the annual Bluefaced Leicester sale in their modern, professional new facility which was well received by vendor and purchaser alike. Stuart Lane had the honour of judging the event on a glorious autumn's day.
Top price was awarded to Elfyn Owen with his home bred yearling ram Cernyw G11. He was sired by the prolific Cernyw Muscleman C15 Elite plus out of a ewe sired by the old reference sire Llwygy X1 Elite plus. Elfyn regularly tops his home sale in north Wales showing the respect and reputation he has as a breeder. A ram lamb sired by the Muscleman saw the Cernyw flock take the male champion and reserve overall at the sale. This was a high indexed lamb confirming yet again that beauty can be more than skin deep. Elfyn also took reserve male champion with another yearling ram by the same sire showing the dominance of Elfyn's bloodlines.
The day's overall champion awarded by Stuart went to Dewi Williams of the Elian flock for his smart homebred yearling ewe sired by Addingham B1 and out of a ewe sired by Elian Z3. Dewi also took reserve female champion with a ewe by the same sire. Following the magnificent display of rams at Builth only three days earlier the Elian flock was able to cement its reputation with a great show of females.
Ruthin Farmers Market hosts a major Welsh Mule sale and continues to be a significant centre for quality breeding stock from all over North and Mid Wales. How appropriate that the Bluefaced sale should continue to thrive in this stronghold for great stockmen.
Aged Rams
| Placing | Class | Exhibitor | Flock Name | Lot Number |
| --- | --- | --- | --- | --- |
| 1st | Aged Rams | E Williams | Gwytherin | 1 |
| 2nd | Aged Rams | J Harris | Henllys | 14 |
Shearling Rams
| Placing | Class | Exhibitor | Flock Name | Lot Number |
| --- | --- | --- | --- | --- |
| 1st | Shearling Rams | E Owen | Cernyw | 18 |
| 2nd | Shearling Rams | E H Owen | Tyrnog | 20 |
| 3rd | Shearling Rams | H W Gruffyd | Caereini | 12 |
| 4th | Shearling Rams | E Owen | Cernyw | 19 |
Ram Lambs
| Placing | Class | Exhibitor | Flock Name | Lot Number |
| --- | --- | --- | --- | --- |
| 1st | Ram Lambs | E Owen | Cernyw | 44 |
| 2nd | Ram Lambs | H G Davies | Swchyrhafod | 53 |
| 3rd | Ram Lambs | H G Davies | Swchyrhafod | 51 |
| 4th | Ram Lambs | E Owen | Cernyw | 45 |
Ewes
| Placing | Class | Exhibitor | Flock Name | Lot Number |
| --- | --- | --- | --- | --- |
| 1st | Ewes | G P Williams | Elian | 76 |
| 2nd | Ewes | G P Williams | Elian | 78 |
| 3rd | Ewes | C F & S Cotton | Longclose | 73 |
| 4th | Ewes | H D Gruffyd | Caereini | 83 |
Bluefaced Champions
| Category | Exhibitor | Type |
| --- | --- | --- |
| Overall Champion & Female Champion | G P Williams | Ewe |
| Res. Overall Champion & Male Champion | E Owen | Ram Lamb |
| Reserve Female Champion | G P Williams | Ewe |
| Reserve Male Champion | E Owen | Shearling Ram |
Gallery
Back to Archive