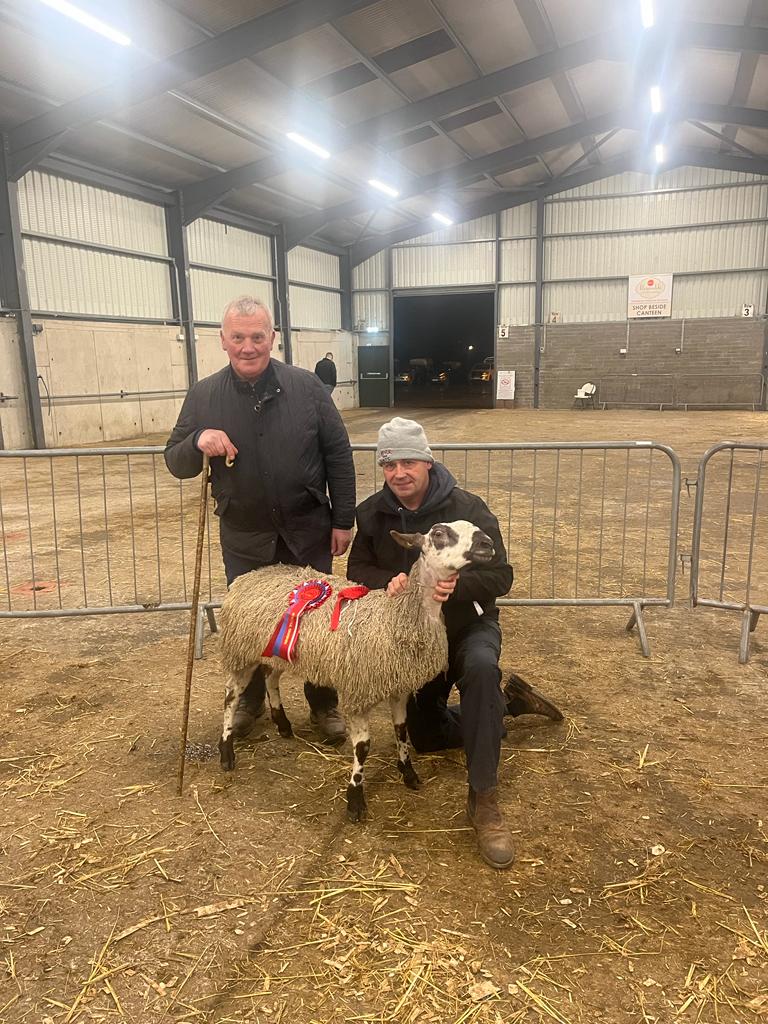 South of Ireland Female Sale – 28 December 2022
28th December 2022
Carrick-on-Shannon
John Holden, Blairmount
The final sale in the Club Calendar took place on Wednesday, 28th December in The Showgrounds, Carrick-on-Shannon where some of the region's top flocks attended with their sheep.  Judge was John Holden of the Blairmount flock in Co. Antrim.  In the Shearling ewe class he found his 1st place sheep in John Morahan's Woodview Farm pen, a K007 Burnbank bred ewe, in lamb carrying 2 to a homebred M001 Woodview Farm.  2nd place was found in the pen of Adam Killeen's Maltpool flock, an N001 Drummuck bred ewe purchased from the Firmount Flock last year and who was in lamb to P001 Clogher carrying 3 lambs.
It was in the ewe lamb class that Judge John Holden found his 1st prize and champion of the show, in the pen of Paul Sammons' Firmount Flock,  a lamb bred by P002 Giants Causeway.  This lamb caught the judge's eye with her clean colours and overall presence in the show ring.  The 2nd prize ewe lamb and reserve overall, was found in the Clogher Flock owned by Jonathan Wall.  This lamb showed plenty of power and clean colours and was bred by K001 Woodview Farm.
The sale was back on the year with purchasers more caution in the amount they were willing to part for the sheep of their choice, however there was decent interest in the better types on offer.
Top price of the day went to Jonathan Walls Reserve Champion lamb which sold to Paul Sammon for €660.
A 6th place lamb in the pre-sale show exhibited by Aidan Killeen of the Ballinchalla flock saw a lot of interest and sold for €600 to David Love, Donegal.  This lamb was bred by a homebred sheep of Aidan's, N001 Ballinchalla.
Adam Killeen's 2nd place Shearling Ewe sold for €600.
Tom Staunton's pen was keenly viewed by purchasers and his pre-sale 4th place ewe lamb sold for €540, this lamb was got by N004 Drummuck.  A further brace of lambs from Maskview sold for €500, one by N004 Drummuck and one by N009 Temain.
Last in the sale was Joe Scahill's Faughburren Flock which saw their P003 Braeburn bred lamb sell for €480.
As a farewell note the Club wishes to thank everyone who supported us throughout the year, it's encouraging how Bluefaced Leicester Sheep have progressed since the club formation, of course, it is their crossbred offspring, the MULE that makes our rams beneficial to all sheep breeds and we are indebted to the individual Farmers and Mule Groups across the country, who use our sheep, these are the people who are paramount in the progression of our breed, we thank each and every one of you.  Finally we wish everyone a very happy and peaceful New Year and every good wish for 2023.
Gallery
Back to Archive