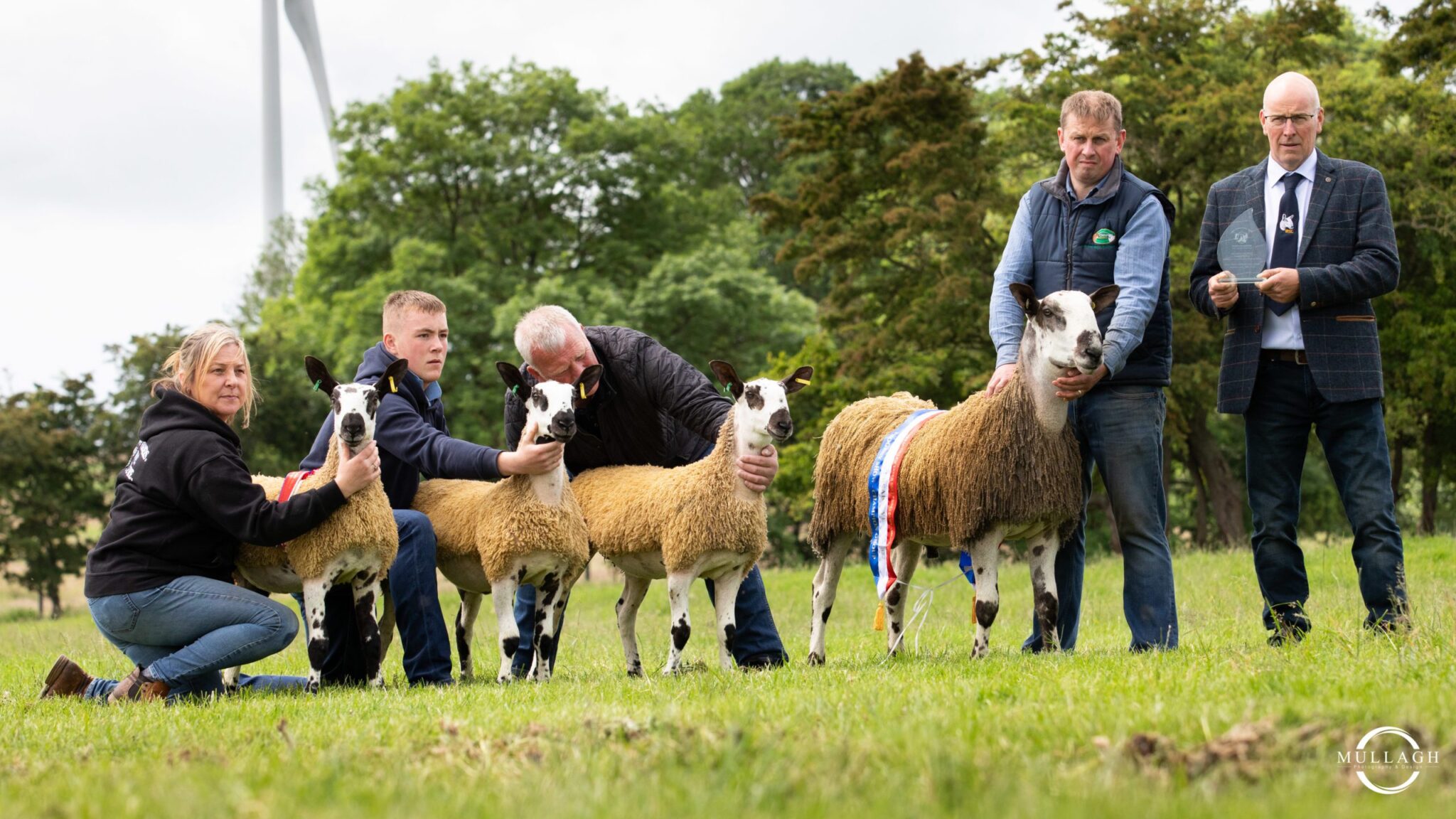 Ballymena Show, 2022 – Including Northern Ireland Progeny Show
18th June 2022
Ballymena
Mr J Bell, Cottage
There was a welcome return to the show ring in Ballymena as the Region's Bluefaced Leicester Progeny pressed ahead, with plenty of sheep for the judge, Jimmy Bell he undertook his duties.
With such a quality selection of sheep presented for the individual classes, prizes were well spread out between exhibitors.
Lifting overall show champion on the day was a powerful hogget from Michael Woods, this Holmview bred lady gripped the judge's attention in her individual class and continued to catch his eye with her soundness in the final line up. Her opposition in the final show down included a flurry of style, power and overall correctness.
The female sections were again very well populated. In the aged ewe class Holmview hit the top line again. Her sharpness, clean colour and presence carried her into the championship. Within a blanket of colours through so many persiled white haired lambs, Ian Montgomery's ewe lamb shone through. Mistyburn has a terrific show season to date and today didn't disappoint! With the champion presented to the Knockbarragh flock, the second placed hogget was called into the ring to which Jimmy passed the reserve ticket to. This impressive Popeye hogget remained tattooed on Jimmy's mind from the hogget class.
In the aged ram class, Eoin Loughran collected the red ticket for his Starbog bred ram, a ram with a bone, frame and traits reflective of his sire the renowned Midlock 37K. Ryan Loughran from the Loughbracken flock made his first appearance to the show ring and greeted this with success. His Mullaghwee Shearling banked first place, this modern ram retained his presence and character since purchased in September 2021 and carried this forward today in the show ring. Finally from the male section; William Adams sought off a large entry of ram lambs to lift first place. This ram lamb arguably would fulfil the bucket list for any blue breeder. Its colour, skin and character easily won over the judge.
In the mule section numbers were high, Michelle Wright lifted overall champion for a terrific ewe lamb. Her elegance and style weaved her path to success.
The progeny section saw the Mullaghwee flock triumph with Jimmy Bell choosing out their 3 'trending', piercing ewe lambs, sired by their Starbog ram that they bought last backend in Ballymena from Hugh Henry and part shared with William Adams. Starbog P1 not only left his stamp of success with Michelle but also with William. William collected overall reserve with the same sire and his three ram lambs. The satisfying trio, loaded with colour and fashionable for today's market will undoubtedly be on many to buy lists this backend.
A tremendous day, thanks are extended to Ballymena Show committee, the judge and to the exhibitors.
Ram, two years old and upwards
| Placing | Class | Exhibitor | Flock Name |
| --- | --- | --- | --- |
| 1st | Ram - Aged | Eoin Loughran | Hilltop Farm |
Ram, one year old
| Placing | Class | Exhibitor | Flock Name |
| --- | --- | --- | --- |
| 1st | Shearling Ram | Ryan Loughran | Loughbracken Hill |
| 2nd | Shearling Ram | J Adams & Sons | Holmview |
| 3rd | Shearling Ram | Jimmy Mills | Ballytober |
Ram Lamb
| Placing | Class | Exhibitor | Flock Name |
| --- | --- | --- | --- |
| 1st | Ram Lamb | J Adams & Sons | Holmview |
| 2nd | Ram Lamb | J Adams & Sons | Holmview |
| 3rd | Ram Lamb | Timothy Wray | Knockstacken |
Yearling Ewe
| Placing | Class | Exhibitor | Flock Name |
| --- | --- | --- | --- |
| 1st | Yearling Ewe | Michael Woods | Knockbarragh Blues |
| 2nd | Yearling Ewe | A & D McKillop | Giants Causeway |
| 3rd | Yearling Ewe | A & D McKillop | Giants Causeway |
Ewe, two years old and over, suckled
| Placing | Class | Exhibitor | Flock Name |
| --- | --- | --- | --- |
| 1st | Aged Ewe | J Adams & Sons | Holmview |
| 2nd | Aged Ewe | A & D McKillop | Giants Causeway |
| 3rd | Aged Ewe | Eoin Loughran | Hilltop Farm |
Ewe Lamb
| Placing | Class | Exhibitor | Flock Name |
| --- | --- | --- | --- |
| 1st | Ewe Lamb | I Montgomery | Mistyburn |
| 2nd | Ewe Lamb | A & D McKillop | Giants Causeway |
| 3rd | Ewe Lamb | Christopher Brown | Ballygorian More |
Pair of Lambs
| Placing | Class | Exhibitor | Flock Name |
| --- | --- | --- | --- |
| 1st | Pair of Lambs | I Montgomery | Mistyburn |
| 2nd | Pair of Lambs | Timothy Wray | Knockstacken |
| 3rd | Pair of Lambs | Miss Michelle Wright | Mullaghwee |
Group of Three
| Placing | Class | Exhibitor | Flock Name |
| --- | --- | --- | --- |
| 1st | Group of Three | A & D McKillop | Giants Causeway |
| 2nd | Group of Three | Miss Michelle Wright | Mullaghwee |
| 3rd | Group of Three | J Adams & Sons | Holmview |
Progeny Class- Group of Three Ram Lambs with Sire
| Placing | Exhibitor | Flock Name |
| --- | --- | --- |
| 1st | J Adams & Sons | Holmview |
| 2nd | Eoin Loughran | Hilltop Farm |
Progeny Class - Group of Three Ewe Lambs with Sire
| Placing | Exhibitor | Flock Name |
| --- | --- | --- |
| 1st | Miss Michelle Wright | Mullaghwee |
| 2nd | J Adams & Sons | Holmview |
Progeny Class - Pair of Adult Sheep
| Placing | Exhibitor | Flock Name |
| --- | --- | --- |
| 1st | A & D McKillop | Giants Causeway |
| 2nd | J Adams & Sons | Holmview |
| 3rd | Michael Woods | Knockbarragh Blues |
Progeny Class-Pair of Lambs by the Same Sire - Shown with or without Sire
| Placing | Exhibitor | Flock Name |
| --- | --- | --- |
| 1st | A & D McKillop | Giants Causeway |
| 2nd | I Montgomery | Mistyburn |
| 3rd | Timothy Wray | Knockstacken |
Progeny Class-Group of Three Ram Lambs - Shown without Sire but by the Same Sire
| Placing | Exhibitor | Flock Name |
| --- | --- | --- |
| 1st | J Adams & Sons | Holmview |
| 2nd | A & D McKillop | Giants Causeway |
Progeny Class-Group of Three Ewe Lambs - Shown without Sire but by the Same Sire
| Placing | Exhibitor | Flock Name |
| --- | --- | --- |
| 1st | J Adams & Sons | Holmview |
Progeny Class-Group of Three Mule Ewe Lambs with Sire
| Placing | Exhibitor | Flock Name |
| --- | --- | --- |
| 1st | Jimmy Mills | Ballytober |
| 2nd | Eoin Loughran | Hilltop Farm |
| 3rd | Eoin Loughran | Hilltop Farm |
Bluefaced Champions
| Category | Exhibitor | Type |
| --- | --- | --- |
| Overall Champion | Michael Woods | Yearling Ewe |
| Reserve Overall Champion | A & D McKillop | 2nd Prize Yearling Ewe |
| Champion Bluefaced Leicester Progeny Group | Miss Michelle Wright | Group of Three Ewe Lambs with Sire |
| Res. Champion Bluefaced Leicester Progeny Group | J Adams & Sons | Group of Three Ram Lambs with Sire |
| Champion Mule Progeny Group | Jimmy Mills, Ballytober | |
Gallery
Back to Archive