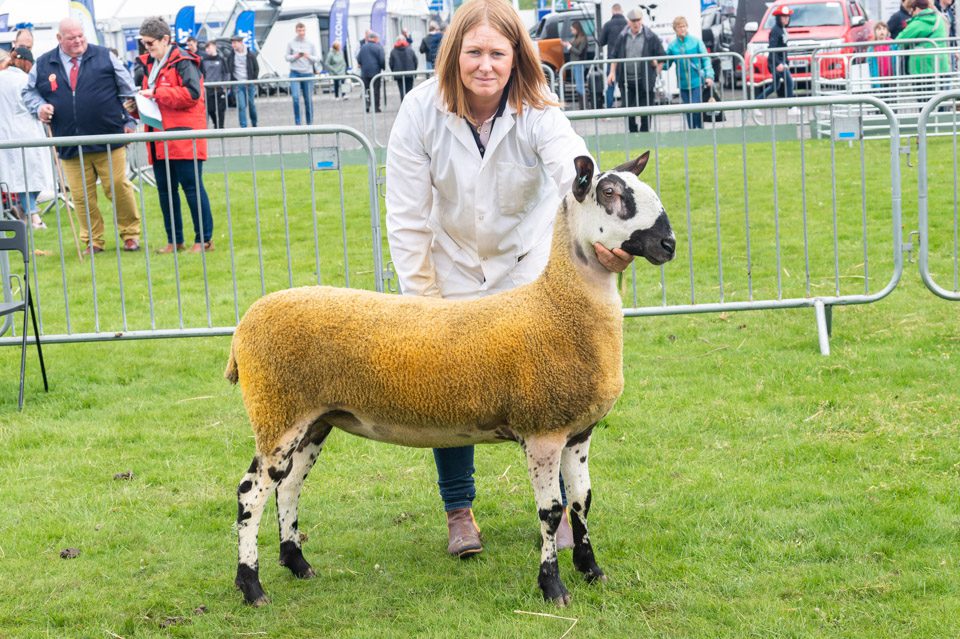 Balmoral Show
10th - 13th May 2023
Balmoral Park
Mr Kevin Ridley, Shitlington
Balmoral Show 2023
Thursday 11th May 2023
Under the cloudy, rain filled skies of the Balmoral Show the first major show of the year for the Bluefaced Leicester's has taken place.
Judge this year was renowned stock man Mr Kevin Ridley, Shitlington Flock based in Northumberland who was faced with a smaller entry than last year but the quality was there for all to see.
Kevin found his Overall Champion in the shearling ewe class this was a stylish homebred Gimmer, Temain Rosie R070 from Graham & Julie Loughery, she caught your eye as soon as she entered the ring, she is sired by Carry House Ronaldo, out of homebred ewe Temain N033 by Yorehouse Maverick, she is full sister to the 19,000 Temain Gambler out of Temain Ruby. Later on in the show she came out for Interbreeds and took the Reserve Champion in the Long Wool Breed Section
Reserve overall champion was the first prize ram lamb from Adam Porter, Braeburn flock, the lamb is sired by the 12,000 guinea Drummuck Del Boy out of a homebred ewe who is a daughter of Adams J56 Skeughdale ewe who he purchased at Hawes as a ewe lamb for 3600 and sired by Midlock G34.
Adam also took the honours with the best pair of lambs again both sired by the 12,000 Guinea Drummuck Del Boy. Both lambs will be for sale later in the year.
The ram class for shearling or over was won by G & J Loughery, Temain this was with homebred ram Temain P036 sired by Midlock Iceman, he was sold in Ballymena Sale in 2021 for 6,500 guineas with a share retained
Julie & Graham also took 1st place in the ewe lamb class this homebred lamb is sired by R001 Beeches Wingman the dam is full sister to Temain Darkhorse by Yorehouse Maverick. The Temain flock also took the top honours in the group of three.
William Adams from the Holmview flock took the red rosette in the Aged Ewe class.
Congratulations to all competitors who put forward a great show of sheep
Ram, shearling and upward
| Placing | Class | Exhibitor | Flock Name |
| --- | --- | --- | --- |
| 1st | Ram, shearling and upward | G & J Loughery | Temain |
| 2nd | Ram, shearling and upward | Archie Henry | Caherty |
| 3rd | Ram, shearling and upward | Michael Woods | Knockbarragh Blues |
Ram Lamb
| Placing | Class | Exhibitor | Flock Name |
| --- | --- | --- | --- |
| 1st | Ram Lamb | Adam Porter | Braeburn |
| 2nd | Ram Lamb | Christopher Butler | Glenmakeeran |
| 3rd | Ram Lamb | Ian Montgomery | Mistyburn |
| 4th | Ram Lamb | Ian Montgomery | Mistyburn |
Ewe, 2 shear and upwards
| Placing | Class | Exhibitor | Flock Name |
| --- | --- | --- | --- |
| 1st | Ewe, 2 shear and upwards | William Adams | Holmview |
| 2nd | Ewe, 2 shear and upwards | Michael Woods | Knockbarragh Blues |
| 3rd | Ewe, 2 shear and upwards | Christopher Butler | Glenmakeeran |
| 4th | Ewe, 2 shear and upwards | Michael Woods | Knockbarragh Blues |
Shearling Ewe
| Placing | Class | Exhibitor | Flock Name |
| --- | --- | --- | --- |
| 1st | Shearling Ewe | G & J Loughery | Temain |
| 2nd | Shearling Ewe | Michael Woods | Knockbarragh Blues |
| 3rd | Shearling Ewe | Daryl Liggett | Alderwood |
| 4th | Shearling Ewe | Michael Woods | Knockbarragh Blues |
Ewe Lamb
| Placing | Class | Exhibitor | Flock Name |
| --- | --- | --- | --- |
| 1st | Ewe Lamb | G & J Loughery | Temain |
| 2nd | Ewe Lamb | Ian Montgomery | Mistyburn |
| 3rd | Ewe Lamb | Christopher Butler | Glenmakeeran |
| 4th | Ewe Lamb | William Adams | Holmview |
Pair of Bluefaced Leicester Lambs
| Placing | Class | Exhibitor | Flock Name |
| --- | --- | --- | --- |
| 1st | Pair of Bluefaced Leicester Lambs | Adam Porter | Braeburn |
| 2nd | Pair of Bluefaced Leicester Lambs | Ian Montgomery | Mistyburn |
| 3rd | Pair of Bluefaced Leicester Lambs | Christopher Butler | Glenmakeeran |
Group of Three Bluefaced Leicester Sheep
| Placing | Class | Exhibitor | Flock Name |
| --- | --- | --- | --- |
| 1st | Group of Three Bluefaced Leicester Sheep | G & J Loughery | Temain |
| 2nd | Group of Three Bluefaced Leicester Sheep | Michael Woods | Knockbarragh Blues |
| 3rd | Group of Three Bluefaced Leicester Sheep | Archie Henry | Caherty |
Bluefaced Champions
| Category | Exhibitor | Type |
| --- | --- | --- |
| Overall Champion | G & J Loughery, Temain | First Prize Shearling Ewe |
| Reserve Overall Champion | Adam Porter, Braeburn | First Prize Ram Lamb |
Gallery
Back to Show Results