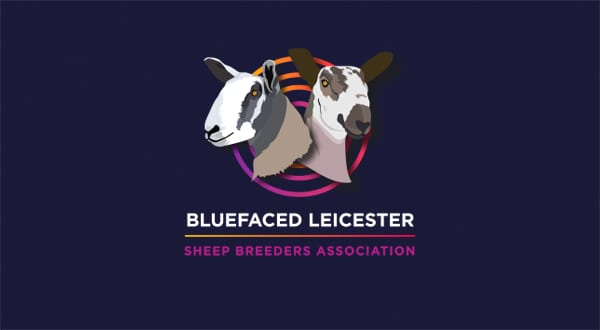 Great Yorkshire Show
9th - 11th July 2013
Harrogate
Mr R Neill, Rossiebank
A great show of Bluefaced Leicesters, both in numbers and quality, was held at the 2013 Yorkshire Show, and in a complete opposite to last year the event was held in searing heat and sunshine, with the only umbrellas on show being used to create some shade!
Robert Neill was the judge for the day, and rising to the top once again was Alec Bisset from the Middle Dukesfield flock, claiming his second championship in a row, with a three crop ewe the same way bred as last year's champion, by a Clennell tup. She is no stranger to the show, having taken first prize as a gimmer lamb. She has been a good consistant breeder too, with a tup lamb out of her selling privately last autumn, and this has reared a great gimmer lamb which is being retained within the flock.
The reserve champion sheep came all the way from the Walney Island, Cumbria, as Scott & Claire Thomason secured first the male championship before taking the reserve overall with a cracking tup lamb. This monster of a lamb, which scales over 60 kgs already, carried itself well, with a great skin and outlook combined with tremendous conformation. He is by Z1 Hazelwood that Scott bought privately last year, and his mother is by the 5200 gns Parton bought out of Carlisle a few years back. He will no doubt be on the mind of many breeders this summer as they plan for the future, and the next sighting of him will hopefully be at the Carlisle sale in October, where he will try and catch the judges eye again! In a good show for the Piel View flock, they took the reserve female title with a four crop ewe and also won the group of three.
Aged Ram
| Placing | Class | Exhibitor | Flock Name |
| --- | --- | --- | --- |
| 1st | Aged Ram | A G & D Bisset | Middle Dukesfield |
| 2nd | Aged Ram | D D Henderson | North Burndale |
Shearling Ram
| Placing | Class | Exhibitor | Flock Name |
| --- | --- | --- | --- |
| 1st | Shearling Ram | J & D Stenton | St Ravenscar |
| 2nd | Shearling Ram | A G & D Bisset | Middle Dukesfield |
| 3rd | Shearling Ram | M Houlton | Frodingham Flock |
Ram Lamb
| Placing | Class | Exhibitor | Flock Name |
| --- | --- | --- | --- |
| 1st | Ram Lamb | S A Thomason | Piel View |
| 2nd | Ram Lamb | A G & D Bisset | Middle Dukesfield |
| 3rd | Ram Lamb | A G & D Bisset | Middle Dukesfield |
Aged Ewe
| Placing | Class | Exhibitor | Flock Name |
| --- | --- | --- | --- |
| 1st | Aged Ewe | A G & D Bisset | Middle Dukesfield |
| 2nd | Aged Ewe | S A Thomason | Piel View |
| 3rd | Aged Ewe | J & D Stenton | St Ravenscar |
Yearling Ewe
| Placing | Class | Exhibitor | Flock Name |
| --- | --- | --- | --- |
| 1st | Yearling Ewe | R Peart | Mayland |
| 2nd | Yearling Ewe | R Peart | Mayland |
| 3rd | Yearling Ewe | H J Stenton | Thornton le Dale |
Ewe Lamb
| Placing | Class | Exhibitor | Flock Name |
| --- | --- | --- | --- |
| 1st | Ewe Lamb | S A Thomason | Piel View |
| 2nd | Ewe Lamb | A G & D Bisset | Middle Dukesfield |
| 3rd | Ewe Lamb | M Houlton | Frodingham Flock |
Group Of Three
| Placing | Class | Exhibitor | Flock Name |
| --- | --- | --- | --- |
| 1st | Group Of Three | S A Thomason | Piel View |
| 2nd | Group Of Three | A G & D Bisset | Middle Dukesfield |
| 3rd | Group Of Three | M Houlton | Frodingham Flock |
Bluefaced Champions
| Category | Exhibitor | Type |
| --- | --- | --- |
| Breed Champion & Female Champion | A G & D Bisset | Aged Ewe |
| Res. Champion & Male Champion | S A Thomason | Ram Lamb |
| Res. Male Champion | A G & D Bisset | Aged Ram |
| Res. Female Champion | S Thomason | Aged Ewe |
Back to Archive