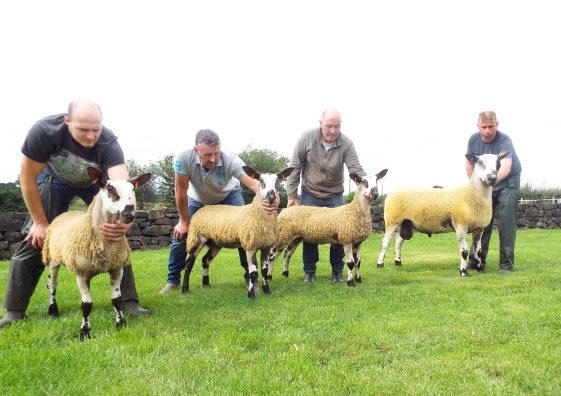 Northern Ireland Progeny Show – Plumbridge Show
7th August 2021
Plumbridge
Richard Hargreaves, Barley
Richard Hargreaves from the Barley Flock made his journey into the Sperrins to judge the Blue and Mule section of the Plumbridge Show. Even though the weather started off pleasant it wasn't very long to the rain started. This didn't dampen the spirit of the show and Richard had a very busy day! With a terrific number of entries Richard was presented with some well-populated classes to make his final championship line up.
The order of the day began with the male classes; Eoin Loughran scooped the red rosettes in both the aged ram and ram lamb classes. The white, size and skin saw his Drumgooland aged ram grabbed Richard's attention. Alistair Christie & William Adams banked the red ticket in the Shearling Ram Class, their 14K Aughaboy 'Nutter' Ram's tremendous skin and character saw him pick up overall Blue Champion and Interbreed Reserve Champion. A real credit to the breed, well done.
With a fuller ring of sucked ewes and hoggets, William Adams collected two further first place positions; William's aged Cottage continued to reign in her section, the same ewe secured many prizes and championships within her show career and she collected 1st today. William's Dazzler bred hogget with her colour, skin and overall correctness banked her first place in this class. In a very large ewe lamb class, Jimmy Mills' sparky Blarnavaid bred ewe lamb lifted the red rosette, this perfectly skinned catchy ewe lamb journeyed on to pick up reserve champion of the breed. Jimmy Mills' success didn't end there when his Mule ewe lamb bred the same way as his blue ewe lamb banked him the red rosette when she won her class.
As events preceded the Progeny judging began; albeit differently than in previous years as a result of the upcoming export sales. There were smaller classes on display but the quality didn't disappoint. The overall Championship for the Progeny ended with Richard handing Alistair Christie Champion for his ram and 3 ewe lambs followed by reserve to William Adams' pair of adult sheep by the Dazzler.
A sincere voice of thanks is attributed to the exhibitors for providing the stock for judging, to the judge Richard for coming across to judge the stock and also to Plumbridge Show committee along with steward of day for the breed, Cathal Harkin.
Aged Ram
| Placing | Class | Exhibitor | Flock Name |
| --- | --- | --- | --- |
| 1st | Aged Ram | E Loughran | Hilltop Farm |
| 2nd | Aged Ram | Roger Hayes | Castledamph |
| 3rd | Aged Ram | P McSwiggan | |
| 4th | Aged Ram | E Loughran | Hilltop Farm |
Shearling Ram
| Placing | Class | Exhibitor | Flock Name |
| --- | --- | --- | --- |
| 1st | Shearling Ram | A Christie & W Adams | The Fields / Holmview |
Ram Lamb
| Placing | Class | Exhibitor | Flock Name |
| --- | --- | --- | --- |
| 1st | Ram Lamb | E Loughran | Hilltop Farm |
| 2nd | Ram Lamb | A Crookes | |
Aged Ewe
| Placing | Class | Exhibitor | Flock Name |
| --- | --- | --- | --- |
| 1st | Aged Ewe | W Adams | Holmview |
| 2nd | Aged Ewe | R Hayes | Castledamph |
| 3rd | Aged Ewe | E Loughran | Hilltop Farm |
| 4th | Aged Ewe | R Hayes | Castledamph |
Hogget Ewe
| Placing | Class | Exhibitor | Flock Name |
| --- | --- | --- | --- |
| 1st | Hogget Ewe | W Adams | Holmview |
| 2nd | Hogget Ewe | W Adams | Holmview |
| 3rd | Hogget Ewe | R Hayes | Castledamph |
| 4th | Hogget Ewe | R Hayes | Castledamph |
Ewe Lambs
| Placing | Class | Exhibitor | Flock Name |
| --- | --- | --- | --- |
| 1st | Ewe Lambs | J Mills | Ballytober |
| 2nd | Ewe Lambs | E Loughran | Hilltop Farm |
| 3rd | Ewe Lambs | A Christie | The Fields |
| 4th | Ewe Lambs | E Loughran | Hilltop Farm |
Progeny Show - Pair of Adult Sheep
| Placing | Class | Exhibitor | Flock Name |
| --- | --- | --- | --- |
| 1st | Pair of Adult Sheep | W Adams | Holmview |
| 2nd | Pair of Adult Sheep | R Hayes | Castledamph |
Progeny Show - Sire with Three Lambs
| Placing | Class | Exhibitor | Flock Name |
| --- | --- | --- | --- |
| 1st | Sire with 3 lambs | A Christie | The Fields |
| 2nd | Sire with 3 lambs | W Adams | Holmview |
| 3rd | Sire with 3 lambs | E Loughran | Hilltop Farm |
Progeny Show - Pair of Lambs
| Placing | Class | Exhibitor | Flock Name |
| --- | --- | --- | --- |
| 1st | Pair of Lambs | E Loughran | Hilltop Farm |
| 2nd | Pair of Lambs | R Hayes | Castledamph |
Progeny Show - Sire with 3 Mule Lambs
| Placing | Class | Exhibitor | Flock Name |
| --- | --- | --- | --- |
| 1st | Sire with 3 Mule Lambs | W Adams | Holmview |
| 2nd | Sire with 3 Mule Lambs | E Loughran | Hilltop Farm |
Bluefaced Champions
| Category | Exhibitor | Type |
| --- | --- | --- |
| Overall Champion & Male Champion | A Christie & W Adams | Shearling Ram |
| Reserve Overall Champion & Female Champion | J Mills | Ewe Lamb |
| Champion BFL Progeny Group | A Christie | Sire with 3 Lambs |
| Reserve Champion BFL Progeny Group | W Adams | Pair of Adult Sheep |
| Champion Mule Progeny Group | W Adams | Sire with 3 Mule Lambs |
Gallery
Back to Archive