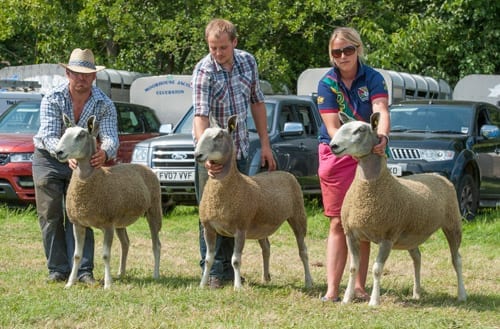 Penrith Progeny Show
26th July 2014
Penrith
Mr E Owen, Cernyw
2014 saw another another great show of Bluefaced Leicesters and Mules at Penrith again this year, and the man with the task of judging the biggest show of Blues for many years was Elfyn Owen, Cernyw Flock, North Wales. Having a tremendous day was Scott Thomason, Piel View Flock, Barrow-in-Furness, taking the individual Championship with a shearling gimmer by Hazelwood Z1 and out of a ewe sired by Middle Dukesfield W6 and Reserve Champion with a ram lamb by Kildalloig F17 and out of a ewe by Barlaes T3. He also went on to win the progeny show with three powerful gimmer shearlings by Hazelwood Z1. Scott Thomason also took the Reserve Male with a Myfyrian ram bought at Carlisle in partnership with Mr Dixon, Alwinton Flock, Northumberland sired by Craig yr Orsedd D1.
John Stott, Laund Flock, Lancashire also had a good day winning the Reserve Female Champion ticket in the individual section with a ewe by Mereoak B17 and also reserve in the progeny section with three sharp gimmer lambs by Tanhouse E1.
Prizes in the Mule section were again dominated by the bloodlines of the renowned crossing sire Hundith Z4. Champion in the individual section was R & F Wilson, Carrholme, Carlisle with a ewe purchased from Neil Marston, Highberries sired by Hundith Z4, and a Hundith Z4 sired ewe lamb from Neil Marston,  Highberries flock, Cockermouth took the reserve ticket in the individual Mule section this year.
In the Mule progeny classes the champion came from Michael James, Duhonw flock with three Welsh Mules with their sire, Old Hemley D7, who is by Tanhouse C2 out of a ewe by Midlock Y1. These Mule lambs are to be sold at Welshpool. Reserve Mule group were three Swaledale type ewe lambs from J C & E Pedley, Yorehouse, Lunds. The reserve group were sired by Midlock C16 bought at Carlisle in 2010 and the Mule lambs are to be sold at Hawes this backend.
Aged Ram
| Placing | Class | Exhibitor | Flock Name |
| --- | --- | --- | --- |
| 1st | Aged Ram | M James | Duhonw |
| 2nd | Aged Ram | C M & J Stott | Laund |
| 3rd | Aged Ram | O Scown | Belgrave |
Shearling Ram
| Placing | Class | Exhibitor | Flock Name |
| --- | --- | --- | --- |
| 1st | Shearling Ram | S Thomason | Piel View |
| 2nd | Shearling Ram | M & N Gray | Espley |
| 3rd | Shearling Ram | M & N Gray | Espley |
Ram Lamb
| Placing | Class | Exhibitor | Flock Name |
| --- | --- | --- | --- |
| 1st | Ram Lamb | S Thomason | Piel View |
| 2nd | Ram Lamb | F Kennedy | AE Water |
| 3rd | Ram Lamb | C M & J Stott | Laund |
Ewe
| Placing | Class | Exhibitor | Flock Name |
| --- | --- | --- | --- |
| 1st | Ewe | C M & J Stott | Laund |
| 2nd | Ewe | S Thomason | Piel View |
| 3rd | Ewe | S Thomason | Piel View |
Shearling Gimmer
| Placing | Class | Exhibitor | Flock Name |
| --- | --- | --- | --- |
| 1st | Shearling Gimmer | S Thomason | Piel View |
| 2nd | Shearling Gimmer | S Thomason | Piel View |
| 3rd | Shearling Gimmer | S Crozier | Watersyke |
Ewe Lamb
| Placing | Class | Exhibitor | Flock Name |
| --- | --- | --- | --- |
| 1st | Ewe Lamb | W C Porter & Son | Riddings |
| 2nd | Ewe Lamb | C M & J Stott | Laund |
| 3rd | Ewe Lamb | S Thomason | Piel View |
Progeny Show - Three Ewes By The Same Sire
| Placing | Class | Exhibitor | Flock Name |
| --- | --- | --- | --- |
| 1st | Three Ewes By The Same Sire | M & C Drummond | Cassington |
| 2nd | Three Ewes By The Same Sire | B & J Watson | Muncaster |
Progeny Show - Three Gimmer Shearling By The Same Sire
| Placing | Class | Exhibitor | Flock Name |
| --- | --- | --- | --- |
| 1st | Three Gimmer Shearling By The Same Sire | S Thomason | Piel View |
| 2nd | Three Gimmer Shearling By The Same Sire | W C Porter & Son | Riddings |
| 3rd | Three Gimmer Shearling By The Same Sire | W M & C M Ridley | Shitlington |
Progeny Show - Three Ram Lambs By The Same Sire
| Placing | Class | Exhibitor | Flock Name |
| --- | --- | --- | --- |
| 1st | Three Ram Lambs By The Same Sire | S Thomason | Piel View |
| 2nd | Three Ram Lambs By The Same Sire | M & N Gray | Espley |
| 3rd | Three Ram Lambs By The Same Sire | O Scown | Belgrave |
Progeny Show - Three Ewe Lambs By The Same Sire
| Placing | Class | Exhibitor | Flock Name |
| --- | --- | --- | --- |
| 1st | Three Ewe Lambs By The Same Sire | C M & J Stott | Laund |
| 2nd | Three Ewe Lambs By The Same Sire | S Thomason | Piel View |
| 3rd | Three Ewe Lambs By The Same Sire | M & C Drummond | Cassington |
Progeny Show - Three Recorded Ram Lambs By The Same Sire
| Placing | Class | Exhibitor | Flock Name |
| --- | --- | --- | --- |
| 1st | Three Recorded Ram Lambs By The Same Sire | S Crozier | Watersyke |
Young Handlers
| Placing | Class | Exhibitor | Flock Name |
| --- | --- | --- | --- |
| 1st | Young Handlers | James Harrison | |
| 2nd | Young Handlers | James Drummond | Cassington |
| 3rd | Young Handlers | Daniel Barrett | |
Bluefaced Champions
| Category | Exhibitor | Type |
| --- | --- | --- |
| Breed Champion & Female Champion | S Thomason | Gimmer |
| Res. Champion & Male Champion | S Thomason | Ram Lamb |
| Res. Male Champion | S Thomason | Shearling Ram |
| Res. Female Champion | C M & J Stott | Ewe |
| Champion Progeny Group | S Thomason | Three Gimmer Shearlings By The Same Sire |
| Res. Champion Progeny Group | C M & J Stott | Three Ewe Lambs By The Same Sire |
| Champion Mule & Res. Interbreed | R & F Wilson | Mule Ewe |
| Res. Champion Mule | N Marston | Ewe Lamb |
| Champion Mule Progeny Group | M James | Duhonw |
| Res. Champion Mule Progeny Group | J C & E Pedley & Son | |
Gallery
Back to Archive