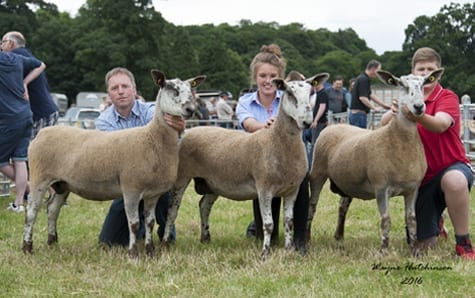 Penrith Progeny Show – Crossing Type & Mules
23rd July 2016
Penrith
R Thomas, Tanhouse (BFL), J K Wilson, Hewness & G Lodge, Westside (Mules)
Penrith Progeny Show 2016
It was a packed show at Penrith, with two rings running and a lot of sheep to be judged, with plenty of showers from northern England and Scotland, under the learned eye of well-respected judges from their circles who both had some depth of quality to pick their eventual winners from.
In the crossing type section Richard Thomas from the Tanhouse flock worked his way through the classes with an intense dedication and rising to the top was a very stylish gimmer from the Riddings flock. She is by the homebred ram Riddings Domino who is sired by Midlock C3 shared with Asby Hall, and has been doing ever so well for both flocks over the past few years. She was pushed hard to the championship ticket by a homebred tup shearling from the Cassington X flock from Matt Drummond, who had to drag the family out of bed at 3.30 am to get to the show – that is some dedication to the breed. The shearling ram is by renowned sire Midlock Y1 and out of a ewe with Lunesdale and Highberries bloodlines, and he stood second in a strong class at the Highland. The Cassington X flock's success wasn't finished there as their gimmer shearling, bought from Michael James' Duhonw flock got the Reserve female ticket. She was sired by Old Hemley D7 out of a ewe by Halkswell A5. The Reserve male champion was a strong tup lamb from M/s Pedley, Yore House, near Hawes. He was by G2 SP Dalpeddar, bought at Hawes.
The progeny champions came from the Riddings flock, with a trio of ewes by the prolific Midlock C3. These three ewes were very correct, modern examples of the breed and a culmination of years of dedication for the Porter family, with three generations in attendance at the show. The Reserve in this section went to the Yore House flock, again to their tup lambs, but this time by H2 Drimsynie, a son of the £15,000 Midlock Knight Rider bought in Hawes last year. The Pedleys have had a good run of Mules this last couple of years and with quite a set out of tup lambs, and will no doubt be worth having a browse through their pens later this Autumn!
In the fiercely contested Mule section, which saw some 25 pairs of lambs out, won by Ron and Fran Wilson, and 49 single lambs, won by Andrew Nicholson. Overall Champion was a gimmer shearling from Ron and Fran Wilson which has been winning at the Highland and Yorkshire shows, bred by Neil Marston. The progeny section was won by John Smith-Jackson with three gimmer lambs by the £4000 Midlock G6, a son of E1 Hewgill, which he shares with Fred and Ruth Dinsdale, Harkerside. The Champion lamb last year was by him and despite only have nine gimmer lambs by him this year, he was still producing the goods. The reserve in the section was Martyn Archer, who had a good day, despite not being able to attend as he was judging the Antrim Progeny Show. He won the Blackface Mule section and his tup Highberries Highlander which he shares with Neil Marston took the blue and white ticket with some really smart lambs.
Aged Ram
| Placing | Class | Exhibitor | Flock Name |
| --- | --- | --- | --- |
| 1st | Aged Ram | C T & J E Willoughby & Sons | Penhill |
Shearling Ram
| Placing | Class | Exhibitor | Flock Name |
| --- | --- | --- | --- |
| 1st | Shearling Ram | M & C Drummond | Cassington X |
| 2nd | Shearling Ram | H Harvey & Son | Waxham |
| 3rd | Shearling Ram | J C Walker & Son | Brennand |
Ram Lamb
| Placing | Class | Exhibitor | Flock Name |
| --- | --- | --- | --- |
| 1st | Ram Lamb | J C & E Pedley & Sons | Yore House |
| 2nd | Ram Lamb | H Harvey & Son | Waxham |
| 3rd | Ram Lamb | H Harvey & Son | Waxham |
Ewe
| Placing | Class | Exhibitor | Flock Name |
| --- | --- | --- | --- |
| 1st | Ewe | W C Porter & Son | Riddings |
| 2nd | Ewe | W C Porter & Son | Riddings |
| 3rd | Ewe | W C Porter & Son | Riddings |
Gimmer
| Placing | Class | Exhibitor | Flock Name |
| --- | --- | --- | --- |
| 1st | Gimmer | W C Porter & Son | Riddings |
| 2nd | Gimmer | M & C Drummond | Cassington X |
| 3rd | Gimmer | W C Porter & Son | Riddings |
Ewe Lamb
| Placing | Class | Exhibitor | Flock Name |
| --- | --- | --- | --- |
| 1st | Ewe Lamb | C T & J E Willoughby & Sons | Penhill |
| 2nd | Ewe Lamb | J C & E Pedley & Sons | Yore House |
| 3rd | Ewe Lamb | J C & E Pedley & Sons | Yore House |
Progeny Show - Three Ewes By The Same Sire
| Placing | Class | Exhibitor | Flock Name |
| --- | --- | --- | --- |
| 1st | Three Ewes By The Same Sire | W C Porter & Son | Riddings |
Progeny Show - Three Gimmers By The Same Sire
| Placing | Class | Exhibitor | Flock Name |
| --- | --- | --- | --- |
| 1st | Three Gimmers By The Same Sire | W C Porter & Son | Riddings |
Progeny Show - Three Ewe Lambs By The Same Sire
| Placing | Class | Exhibitor | Flock Name |
| --- | --- | --- | --- |
| 1st | Three Ewe Lambs By The Same Sire | J C & E Pedley & Sons | Yore House |
| 2nd | Three Ewe Lambs By The Same Sire | C T & J E Willoughby & Sons | Penhill |
| 3rd | Three Ewe Lambs By The Same Sire | S & J Lowthian | Ling |
Mule Progeny - Three Mule Ewe Lambs With Their Sire (Swaledale Type)
| Placing | Class | Exhibitor | Flock Name |
| --- | --- | --- | --- |
| 1st | Three Mule Ewe Lambs With Their Sire (Swaledale Type) | J Smith-Jackson | Shafthill |
| 2nd | Three Mule Ewe Lambs With Their Sire (Swaledale Type) | P L & J Dawson | Kentmere Hall |
| 3rd | Three Mule Ewe Lambs With Their Sire (Swaledale Type) | P L & J Dawson | Kentmere Hall |
Mule Progeny - Three Mule Ewe Lambs With Their Sire (Blackface Type)
| Placing | Class | Exhibitor | Flock Name |
| --- | --- | --- | --- |
| 1st | Three Mule Ewe Lambs With Their Sire (Blackface Type) | R D Archer & Son | Carry House |
Bluefaced Champions
| Category | Exhibitor | Type |
| --- | --- | --- |
| Breed Champion & Female Champion | W C Porter & Son | Gimmer |
| Res. Champion & Male Champion | M & C Drummond | Shearling Ram |
| Res. Male Champion | J C & E Pedley & Sons | Ram Lamb |
| Res. Female Champion | M Drummond | Gimmer |
| Champion Progeny Group | W C Porter & Son | Three Ewes |
| Res. Champion Progeny Group | J C & E Pedley & Sons | Three Ewe Lambs |
| Champion Mule Progeny Group | J Smith-Jackson | Three Mule Ewe Lambs With Their Sire (Swaledale Type) |
| Res. Champion Mule Progeny Group | R D Archer & Son | R D Archer - Three Mule Ewe Lambs With Their Sire (Blackface Type) |
Gallery
Back to Archive