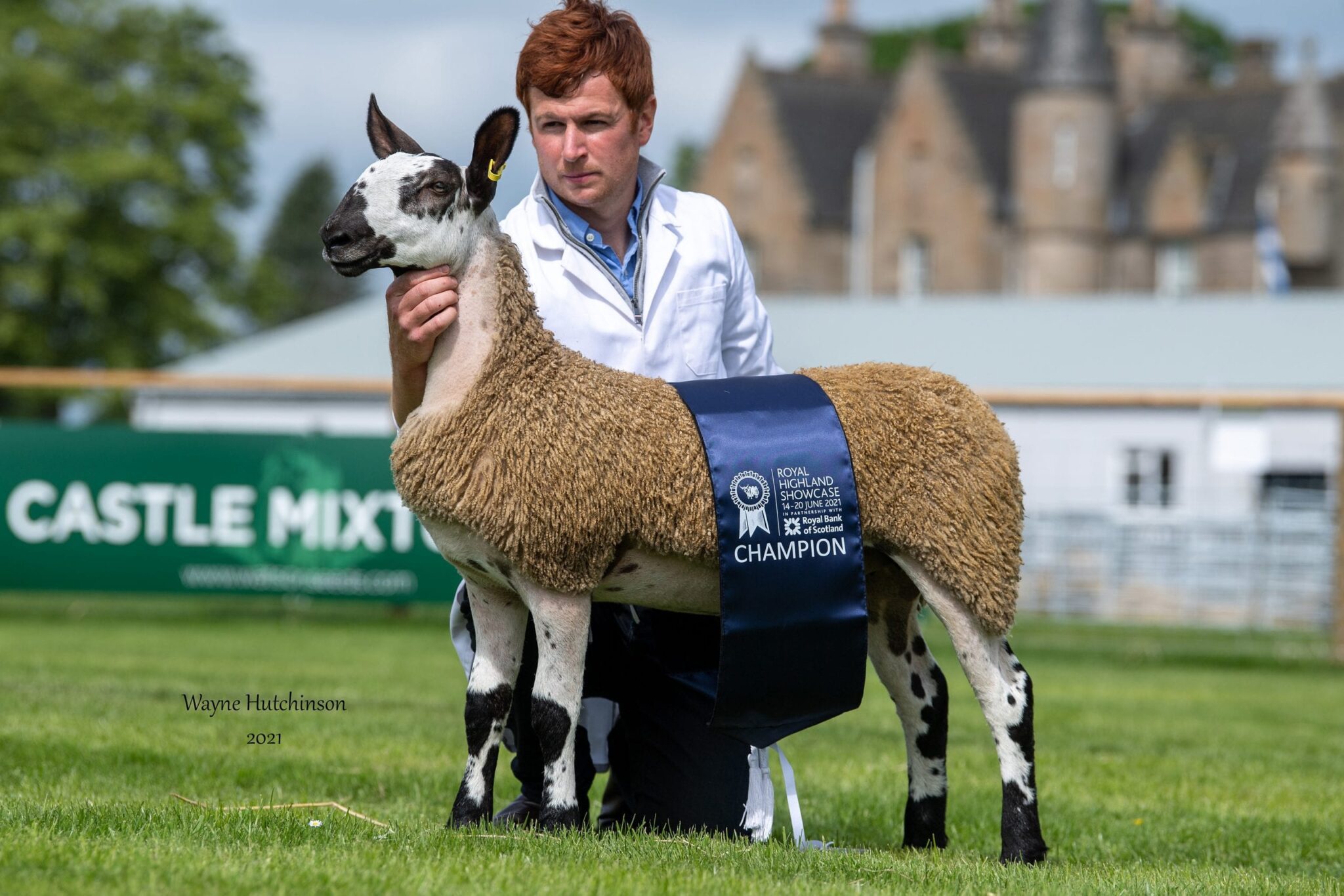 Royal Highland Showcase – Crossing Type
15th June 2021
Edinburgh
Mr Bill Hedley, Riccalton
BFL Crossing Type – Highland Showcase 2021.
It was a strange welcome back to the showring with no crowd and a very much reduced entry, but it is a start and shows that we can slowly return to a more normal-like future.
The Crossing section kicked off the days proceedings, under the watchful eye of judge Bill Hedley, Riccalton. The quality of the sheep on show was not in question, despite limited entries. The champion was a gimmer lamb from Andrew McQuistin, Barnshangan, which would have graced any show. It was powerful, sharp with great colour and a great outlook with it. This smasher was by the legendry G34 Midlock and out of a ewe by J14 Blarnavaid, which went back to H1 Highberries Hotshot. It has showing blood running right through its breeding with her full sister taking the female championship at the Highland back in 2019, and the Highberries and Feizor flocks have bought full sisters too.  Later in the afternoon she went on to take the overall individual Interbreed Championship a perfect way to end a great show day.
The reserve champion was a tup lamb from the same flock, completing a great day for the McQuistin family. This tup lamb was by the Highberries Golden Boy, again a son of the G34 Midlock, and is out of the sister to the ewe that the Highberries flock have, making this tup lamb a cousin to the champion. This lamb has a real powerful outlook, with sharp colour and plenty of bone and a good skin.
The Male champion was a three-year-old tup from John & Finlay Robertson, Beeches. This monster of a tup was bought out of Hawes as a lamb from Sealhouses and is by the £20,000 H1 Steel. His first crop of shearlings will be heading to Kelso this autumn, and if they are built like him, they will certainly catch the eye!
There was more G34 breeding thrown into the mix in the female section as a gimmer shearling by a full brother to the Midlock tup, again from the Beeches, this one by L25 Midlock, a £12,000 purchase out of Kelso a few years back. Its mother is an old show ewe from the flock by Midlock Bronco.
It will be nice next year to see a full ring of sheep and plenty of onlookers. We live in hope!
Tup above One Shear
| Placing | Class | Exhibitor | Flock Name |
| --- | --- | --- | --- |
| 1st | Tup above one shear | Finlay Robertson | Beeches |
Tup Lamb
| Placing | Class | Exhibitor | Flock Name |
| --- | --- | --- | --- |
| 1st | Tup Lamb | A McQuistin | Barnshangan |
| 2nd | Tup Lamb | A McQuistin | Barnshangan |
| 3rd | Tup Lamb | J & J Nisbet | Nisbets |
| 4th | Tup Lamb | R D McInnes | Moscow |
Gimmer
| Placing | Class | Exhibitor | Flock Name |
| --- | --- | --- | --- |
| 1st | Gimmer | Finlay Robertson | Beeches |
| 2nd | Gimmer | N C Marston | Highberries |
| 3rd | Gimmer | N C Marston | Highberries |
| 4th | Gimmer | Finlay Robertson | Beeches |
| 5th | Gimmer | L & D Graham | Burnbank |
Ewe Lamb
| Placing | Class | Exhibitor | Flock Name |
| --- | --- | --- | --- |
| 1st | Ewe Lamb | A McQuistin | Barnshanagan |
| 2nd | Ewe Lamb | R D McInnes | Moscow |
| 3rd | Ewe Lamb | A McQuistin | Barnshangan |
| 4th | Ewe Lamb | J & J Nisbet | Nisbets |
Bluefaced Champions
| Category | Exhibitor | Type |
| --- | --- | --- |
| Breed Champion & Female Champion | A McQuistin | Ewe Lamb |
| Reserve Breed Champion & Male Champion | A McQuistin | Ram Lamb |
| Reserve Female Champion | Finlay Roberston | Gimmer |
| Reserve Male Champion | Finlay Roberston | Tup above one shear |
Gallery
Back to Archive