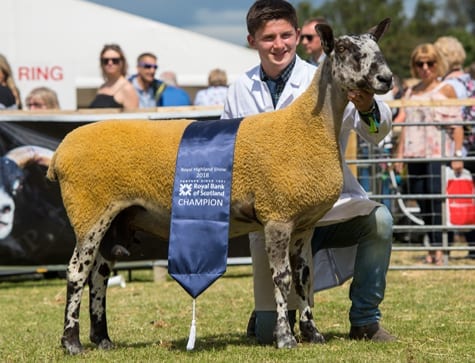 Royal Highland Show – Crossing Type
21st - 24th June 2018
Edinburgh
M James, Duhonw
The 2018 Highland Show was a cracker for the breed, held under clear blue skies and with strong classes from start to finish in all sections. After the winter and spring they have had to endure, credit must go to the breeders for putting out such a strong show which cumulated with the breed taking champion and reserve championship in the interbreed pairs on the Sunday, quite a feat.
First out of the blocks on the Friday morning were the crossing type, under the watchful eye of the noted Welsh breeder, Michael James. He oversaw some of the strongest classes seen for a while, with the tup lamb class having 25 entries and the gimmer lamb class a massive 30 lambs entered making for a quite a spectacle for the watching audience, and cause for some head scratching for the judge! Rising to the top of this pack was a ewe from Midlock, who incidently had a tremendous show taking a hat trick of breed championships across the Bluefaced Leicester, Blackface and Mule sections….a big hats off to them! Their champion, the second of the hat trick, is a four crop ewe which is no stranger to the show ring having done well in the past. It's not just in the show ring though that this E1 Hewgill sired ewe has excelled though, she has done the business in the breeding department too, breeding several top tups including the £15,000 Knight Rider, last year's male champion at the show. The male champion also came from the same stable with a cocky tup lamb sired by the £10,000 Highberries that Midlock bought last year along with Riddings at the Highberries sale, Kirkby Stephen. He was out of a ewe by E1 Barf House, which was mother to the £12,000 tup Midlock sold to Keer a couple of years back. The Midlock duo went on to take the Reserve Interbreed pairs, having to play second fiddle to the traditionals.
The Reserve Overall Champion in this section was the reserve female, a cracking gimmer shearling from the Highberries flock of Neil Marston and Catherine Raine. This lovely sweet sheep was a purchase from Hawes in the spring at the in lamb sale from the Red Howe flock of Jack Cartmel and Rachel Scrimenger, but full of Highberries bloodlines, sired by Highberries G2, a son of the Oak House tup they have used so well of late. Its just the second time shown for this lass, having taken the Interbreed Championship at Eastgate on her last appearance.
Tup above one shear
| Placing | Class | Exhibitor | Flock Name |
| --- | --- | --- | --- |
| 1st | Tup above one shear | S McClymont & Son | Auld Tinnis |
| 2nd | Tup above one shear | J Stenton | St Ravenscar |
| 3rd | Tup above one shear | A Clark | Newmills |
Shearling tup
| Placing | Class | Exhibitor | Flock Name |
| --- | --- | --- | --- |
| 1st | Shearling tup | D & L Graham | Burnbank |
| 2nd | Shearling tup | S McClymont & Son | Auld Tinnis |
| 3rd | Shearling tup | A Frame | Haininghead |
Tup lamb
| Placing | Class | Exhibitor | Flock Name |
| --- | --- | --- | --- |
| 1st | Tup lamb | J Wight & Sons | Midlock |
| 2nd | Tup lamb | A Campbell | Drimsynie |
| 3rd | Tup lamb | A McQuistin | Barnshangan |
Ewe
| Placing | Class | Exhibitor | Flock Name |
| --- | --- | --- | --- |
| 1st | Ewe | J Wight & Sons | Midlock |
| 2nd | Ewe | D & L Graham | Burnbank |
| 3rd | Ewe | M R THornborrow | Dawyck |
Gimmer
| Placing | Class | Exhibitor | Flock Name |
| --- | --- | --- | --- |
| 1st | Gimmer | N Marston | Highberries |
| 2nd | Gimmer | J & W Bell | Cottage |
| 3rd | Gimmer | J Wight & Sons | Midlock |
Ewe Lamb
| Placing | Class | Exhibitor | Flock Name |
| --- | --- | --- | --- |
| 1st | Ewe Lamb | A McQuistin | Barnshangan |
| 2nd | Ewe Lamb | E Fairburn & Son | Marriforth |
| 3rd | Ewe Lamb | N Marston | Highberries |
Group of three
| Placing | Class | Exhibitor | Flock Name |
| --- | --- | --- | --- |
| 1st | Group of three | M R Thornborrow | Dawyck |
| 2nd | Group of three | J & W Bell | Cottage |
Bluefaced Champions
| Category | Exhibitor | Type |
| --- | --- | --- |
| Breed Champion & Female Champion | J Wight & Sons | Ewe |
| Res. Breed Champion & Res. Female Champion | N Marston | Gimmer |
| Male Champion | J Wight & Sons | Ram Lamb |
| Reserve Male Champion | S McClymont & Son | Tup Above One Shear |
Gallery
Back to Archive