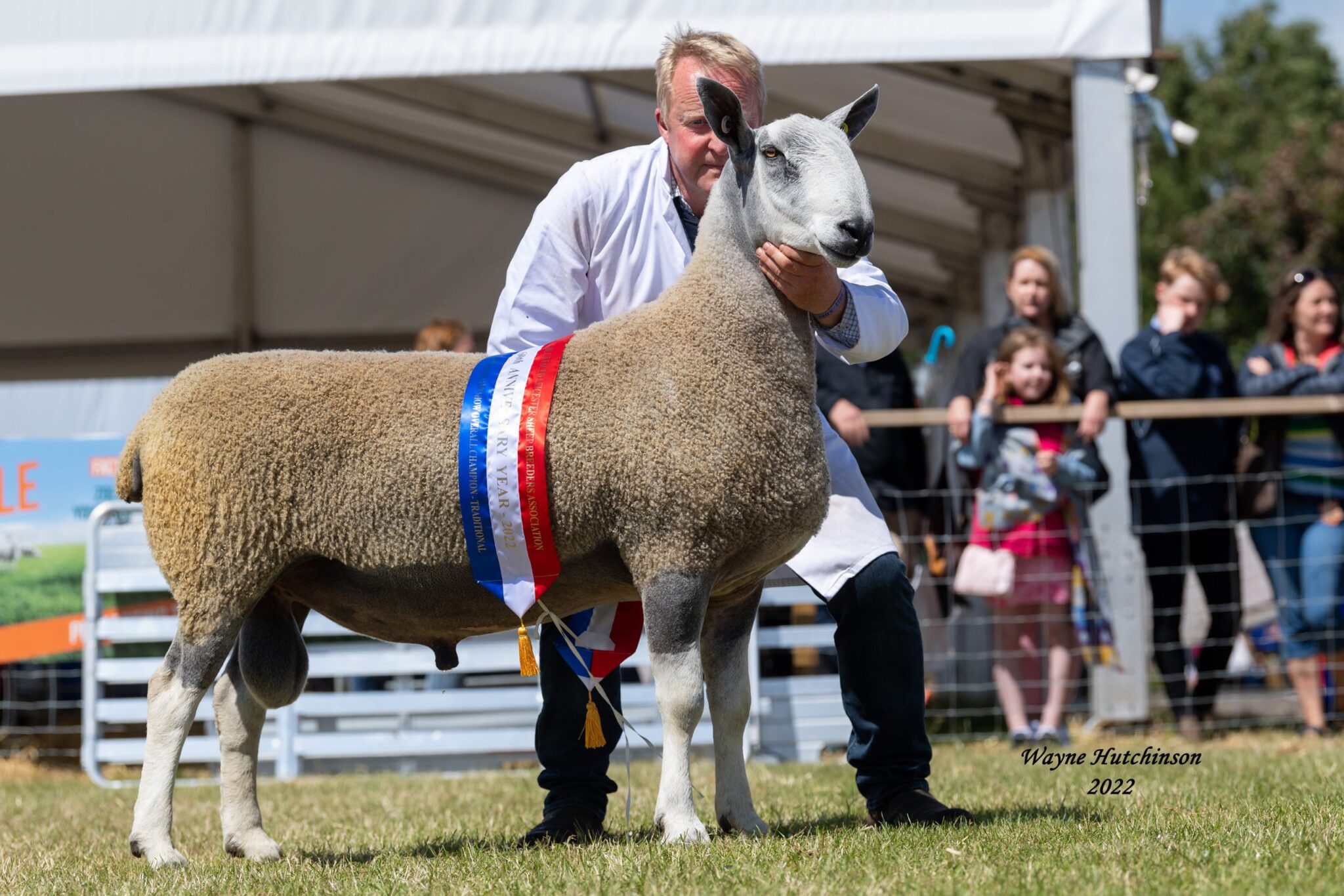 Royal Highland Show – Traditional Type
23rd - 26th June 2022
Edinburgh
Mr John Dykes, Mendick
The afternoon sun blazed down on veteran breeder, John Dykes from the well known Mendick flock as he cast his knowing eye over a superb show of traditional sheep. With some smart sheep on show it wasn't the easiest of jobs to sort through, but the cream of the crop in this section went to Alan McClymont and son Sam from the Kirkstead flock with a 2 shear tup bought out of Kelso last year from Tudor Harris of the Bonvilston flock, for 3200gns. He took the accolades at the Welsh progeny show last year and his run in the showring continued for this son of the L1 Burndale, which has done well for the Kirkstead flock, with his first crop of lambs looking well. Kirkstead also took the reserve female champion spot with a aged ewe and also the gimmer lamb class went to them also, completing a great day for the flock.
The Champion female and reserve overall champion came from new breeder, Lisa Fleming from the Falnash, Teviot Head, who established her flock after buying at the 2020 Blue Belles sale at Carlisle, where she purchased a Kirkstead ewe. This ewe by the Mendick tup was carrying the days female champion, by the M3 Leadburnlea when it arrived and the Highland was its first outing, and what an outing it was, pushing the Kirkstead tup close all the way. This sweet gimmer has a great future in front of her and it will be interesting to see how she develops.
The Philiphaugh flock from Sir Strang-Steel enjoyed a strong showing on the day, taking the reserve male championship with a 2 shear ram, which stood second in its class to the Bonvilston tup. This boy was a bargain purchase at the Kelso sale last year when they forked out a mere £1000 from the Gefrin flock. This boy is by a Mendick sire and has done well, both in himself and how he has got. The flock also took the tup shearling class too, with a strong tup by the £6000 P3 Towdypotts.
The tup lamb class was won by the Kildalloig flock with a smart lamb by the D3 Derwenlas out of a Howlea ewe. The group of 3 saw the Kirkstead just pip the Low Espley flock to first place.
Both sections enjoyed a great show with some tremendous sheep on show, and it was good to be back at a normal Highland show, with plenty of onlookers around the ringside. We look forward to next year and even more entries in what must be one of the shows strongest sections.
Tup, above one shear
| Placing | Class | Exhibitor | Flock Name |
| --- | --- | --- | --- |
| 1st | Tup, above one shear | R A McClymont & Son | Kirkstead |
| 2nd | Tup, above one shear | Sir F M Strang Steel | Philiphaugh |
| 3rd | Tup, above one shear | S Nelson | Medwyn |
| 4th | Tup, above one shear | G Pate & Hazel Brown | Moorfoot & Leadburnlea |
Shearling Tup
| Placing | Class | Exhibitor | Flock Name |
| --- | --- | --- | --- |
| 1st | Shearling Tup | Sir F M Strang Steel | Philiphaugh |
| 2nd | Shearling Tup | J & M Turner | Kildalloig |
| 3rd | Shearling Tup | Sir F M Strang Steel | Philiphaugh |
| 4th | Shearling Tup | M & N Gray | Espley |
Tup Lamb
| Placing | Class | Exhibitor | Flock Name |
| --- | --- | --- | --- |
| 1st | Tup Lamb | J & M Turner | Kildalloig |
| 2nd | Tup Lamb | Hazel Brown | Leadburnlea |
| 3rd | Tup Lamb | M & N Gray | Espley |
| 4th | Tup Lamb | Alix Gray | Low Espley |
Ewe, must have reared a lamb in the year of show
| Placing | Class | Exhibitor | Flock Name |
| --- | --- | --- | --- |
| 1st | Ewe | R A McClymont | Kirkstead |
| 2nd | Ewe | J & M Turner | Kildalloig |
| 3rd | Ewe | M & N Gray | Espley |
| 4th | Ewe | Hazel Brown | Leadburnlea |
Gimmer
| Placing | Class | Exhibitor | Flock Name |
| --- | --- | --- | --- |
| 1st | Gimmer | Lisa Fleming | Falnash |
| 2nd | Gimmer | R A McClymont & Son | Kirkstead |
| 3rd | Gimmer | Hazel Brown | Leadburnlea |
| 4th | Gimmer | J & M Turner | Kildalloig |
Ewe Lamb
| Placing | Class | Exhibitor | Flock Name |
| --- | --- | --- | --- |
| 1st | Ewe Lamb | R A McClymont & Son | Kirkstead |
| 2nd | Ewe Lamb | M & N Gray | Espley |
| 3rd | Ewe Lamb | Dr Alistair Crozier | Kingennie |
| 4th | Ewe Lamb | J & M Turner | Killdalloig |
Group of Three
| Placing | Class | Exhibitor | Flock Name |
| --- | --- | --- | --- |
| 1st | Group of Three | R A McClymont & Son | Kirkstead |
| 2nd | Group of Three | M & N Gray | Espley |
Bluefaced Champions
| Category | Exhibitor | Type |
| --- | --- | --- |
| Overall Champion & Male Champion | R A McClymont & Son, Kirkstead | First Prize Aged Ram |
| Reserve Overall Champion & Champion Female | Lisa Fleming, Falnash | First Prize Gimmer |
| Reserve Champion Male | Sir F M Strang Steel, Philiphaugh | Second Prize Aged Ram |
| Reserve Champion Female | R A McClymont & Son, Kirkstead | First Prize Aged Ewe |
Gallery
Back to Archive