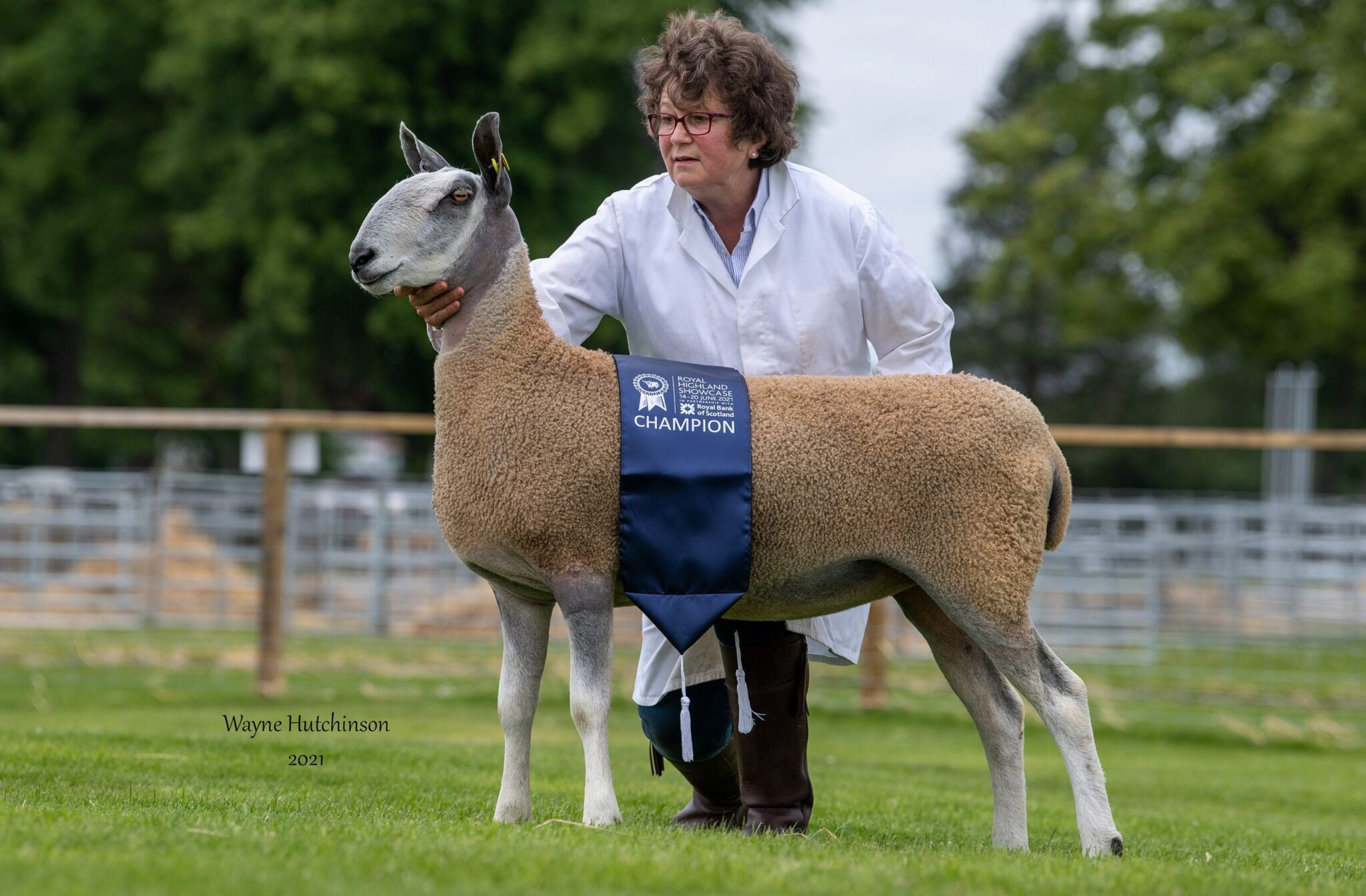 Royal Highland Showcase – Traditional Type
15th June 2021
Edinburgh
Mr Rodney Blackhall, Sheeoch
Traditional Type. Highland Showcase, June, 2021
Following in the ring from the Crossing Blues at the new format Highland Showcase was a flood of entries from the Traditional section, with some great stock on show and some very strong classes in the shadow of the "Big Hoose" at the top end of the show field, where normally you would find tractors and machinery.
Under the careful eye of judge, Rodney Blackhall, Sheeoch, who missed nothing all day, he selected his champion, which was an outstanding example of the breed. Owned and bred by Kate and Alan Smith, Low Arkland, this absolute cracker of a gimmer just oozed quality and style and just floated around the showring demanding attention. She is sired by a Lowes Fell tup bought out of Kelso in 2019. The Lowes Fell tup was also the sire to the tup lamb which won its class for them too, making it the most successful show for the 20 ewe strong flock, who have been showing here for the last decade or so.
His pick for the reserve position also wasn't a shock. This time he went for the first placed aged ram, a monster of a tup from Robert & Lindsay Currie, Braegarrie. They bought him last year out of the Hexham Ring 17 rescheduled sale from Martin Quinn, Whinny Hall for £7000. He was a big tup then but has filled out massively and retained that style he was blessed with. He is by the £12,000 Bonvilston tup and has left some cracking lambs from this year's crop Robert reports, so they will be something to look out for in the future hopefully.
The Kirkstead flock have enjoyed considerable success over the past few years at the show and their team they had out was, once again, full of quality. They took first prizes in the gimmer lamb, tup shearling and the ewe class, but it was the ewe that shone brightest in the judges' eye, picking her out for the reserve female placing. She is by the £2000 Burndale which has done well in the flock and out of a ewe by the old Craig-yr-Orsedd. The shearling tup was again by the Burndale and his gimmer lamb out of a ewe by the Burndale, a sure testament to the quality this tup has been providing.
The reserve male ticket went to the second placed aged ram from J & M Turner, Kildalloig. This powerful boy, is known as "The Gaffer"
All through this section there was a depth of quality from all breeders and it was a credit to them, and indeed with the quality of sheep on show it was good to see the Champions take home the Interbreed Pairs Reserve Champion tickets too. Well done to everyone involved.
Tup above One Shear
| Placing | Class | Exhibitor | Flock Name |
| --- | --- | --- | --- |
| 1st | Tup above One Shear | D L & S Currie | Braegarrie |
| 2nd | Tup above One Shear | J & M Turner | Kildalloig |
| 3rd | Tup above One Shear | Hazel Brown | Leadburnlea |
| 4th | Tup above One Shear | R A McClymont & Son | Kirkstead |
| 5th | Tup above One Shear | J & N Wilkinson | Bollihope |
Shearling Tup
| Placing | Class | Exhibitor | Flock Name |
| --- | --- | --- | --- |
| 1st | Shearling Tup | R A McClymont & Son | Kirkstead |
| 2nd | Shearling Tup | Hazel Brown | Leadburnlea |
| 3rd | Shearling Tup | Hazel Brown | Leadburnlea |
| 4th | Shearling Tup | Kate Smith | Low Arkland |
| 5th | Shearling Tup | Kate Smith | Low Arkland |
| 6th | Shearling Tup | D L & S Currie | Braegarrie |
Tup Lamb
| Placing | Class | Exhibitor | Flock Name |
| --- | --- | --- | --- |
| 1st | Tup Lamb | Kate Smith | Low Arkland |
| 2nd | Tup Lamb | Hazel Brown | Leadburnlea |
| 3rd | Tup Lamb | Hazel Brown | Leadburnlea |
| 4th | Tup Lamb | J & M Turner | Kildalloig |
| 5th | Tup Lamb | J & M Turner | Kildalloig |
| 6th | Tup Lamb | R A McClymont & Son | Kirkstead |
Ewe
| Placing | Class | Exhibitor | Flock Name |
| --- | --- | --- | --- |
| 1st | Ewe | R A McClymont & Son | Kirkstead |
| 2nd | Ewe | Kate Smith | Low Arkland |
| 3rd | Ewe | J & N Wilkinson | Bollihope |
| 4th | Ewe | Hazel Brown | Leadburnlea |
| 5th | Ewe | G Milne | Kinaldy |
Gimmer
| Placing | Class | Exhibitor | Flock Name |
| --- | --- | --- | --- |
| 1st | Gimmer | Kate Smith | Low Arkland |
| 2nd | Gimmer | R A McClymont & Son | Kirkstead |
| 3rd | Gimmer | R A McClymont & Son | Kirkstead |
| 4th | Gimmer | G Milne | Kinaldy |
| 5th | Gimmer | Kate Smith | Low Arkland |
| 6th | Gimmer | Hazel Brown | Leadburnlea |
Ewe Lamb
| Placing | Class | Exhibitor | Flock Name |
| --- | --- | --- | --- |
| 1st | Ewe Lamb | R A McClymont & Son | Kirkstead |
| 2nd | Ewe Lamb | J & M Turner | Kildalloig |
| 3rd | Ewe Lamb | Hazel Brown | Leadburnlea |
| 4th | Ewe Lamb | Kate Smith | Low Arkland |
| 5th | Ewe Lamb | Hazel Brown | Leadburnlea |
| 6th | Ewe Lamb | G Milne | Kinaldy |
Bluefaced Champions
| Category | Exhibitor | Type |
| --- | --- | --- |
| Breed Champion & Female Champion | Kate Smith | Gimmer |
| Reserve Breed Champion & Male Champion | D L & S Currie | Tup above One Shear |
| Reserve Female Champion | R A McClymont & Son | Ewe |
| Reserve Male Champion | J & M Turner | Tup above One Shear |
Gallery
Back to Archive