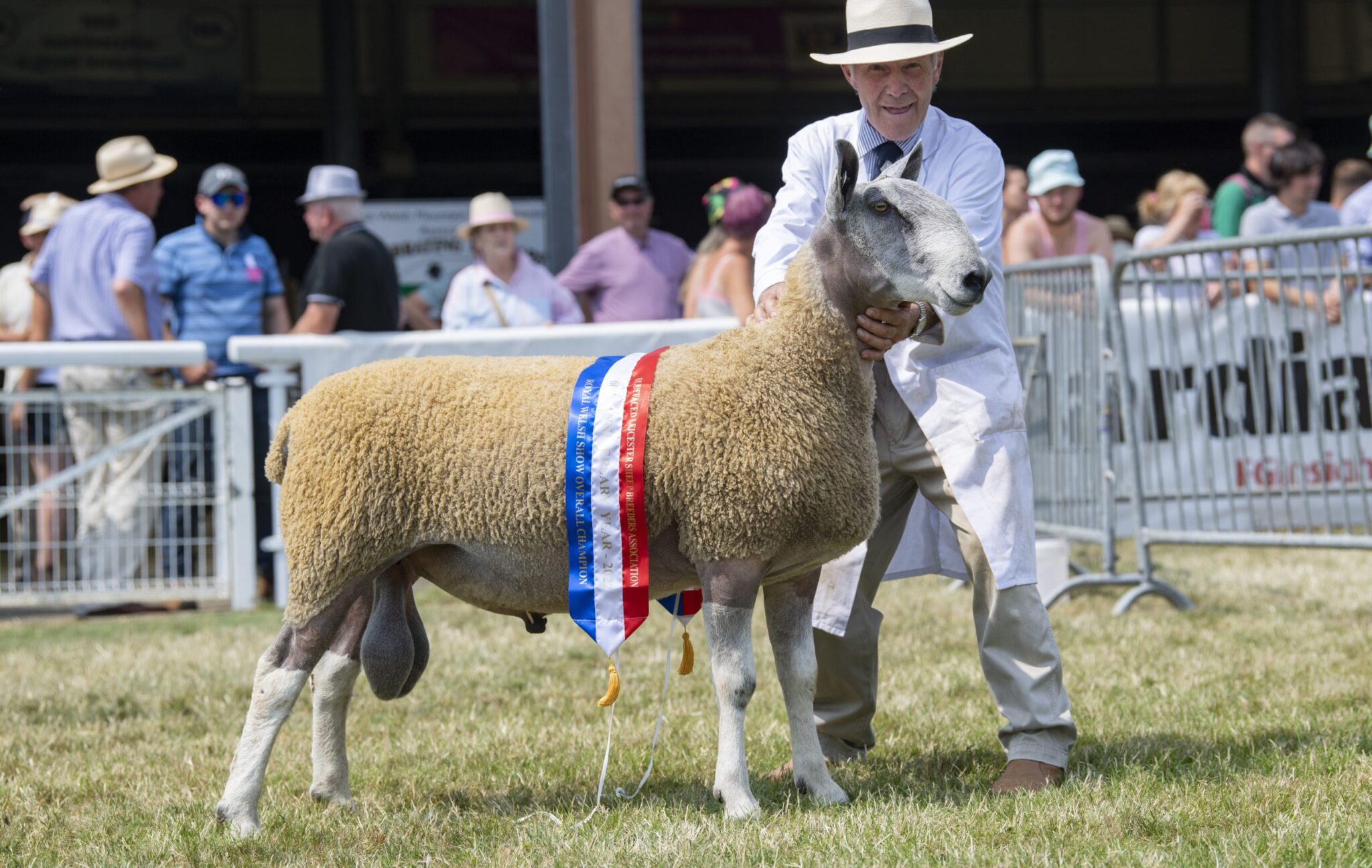 Royal Welsh Show
18th - 21st July 2022
Builth Wells
Mr Myrfyn Roberts, Myfyrian Isaf
"Only mad dogs and Englishmen go out in the midday sun" is a well-known saying. Perhaps we should now add "And Welsh Shepherds too" after the Royal Welsh show 2022, which will go down as one of the hottest ever. Under a clear blue sky Myrfyn Roberts, Myfyrian, was the one with the job in hand to judge the sheep brought forward. He started and finished with complete jacket and tie and even had his judging slightly interrupted as the Princess Royal paid a visit to the showring as part of the 60th anniversary celebrations.
Champion on the day was a shearling ram from Tudor Harris, Bonvilston, with a tup he says is one of the best he has ever bred, sharp as a tack and full of lift with a good skin and confirmation. He is by the cracking Craig yr Orsedd tup used at Logie Durno, and as a Christmas present Tudor received a dose of semen….goodness knows how Santa wrapped that…. It was used in the flock's favourite ewe, L42 Bonvilston, sired by the Myfyrian K8. This shearling was her 10th lamb, and he is selling him at Builth in September only as he has so much of the same bloodlines around. Maybe time to start saving your pennies!
The reserve champion went to Phil May, who was absent from the show after a double hip replacement, with good friend John Turner, Kildalloig, showing his cracking ewe. Phil had planned on selling her last year when he reduced his flock, but John persuaded him to keep her and a few others after she won the Welshpool progeny show last year. She is by K11 Kildalloig and had previous outings at the Royal Welsh as a gimmer lamb too.
Reserve male champion in the male section went to the Griffith family from the Tyhir flock, with a sharp, cocky tup lamb, who kept his ears up throughout the day despite the heat! The Reserve female was a gimmer shearling from the Shrewbridge flock, a triplet to the champion at the Builth sale last year, by the £6200 Ashes tup. Its full brother will be heading to Builth this autumn too, so it will be an interesting prospect too.
Despite the heat it was a great show, with plenty of sheep forward and good comradeship amongst the breeders after a two-year absence. We are already looking forwards to next year. And fingers crossed for a little less heat perhaps!
Ram, two shear or over, shown out of wool
| Placing | Class | Exhibitor | Flock Name |
| --- | --- | --- | --- |
| 1st | Ram, two shear or over, shown out of wool | T R & J Harris | Bonvilston |
| 2nd | Ram, two shear or over, shown out of wool | R G & R A Jones & Son | Robleston |
Ram, shearling, shown out of wool
| Placing | Class | Exhibitor | Flock Name |
| --- | --- | --- | --- |
| 1st | Ram, shearling | T R & J Harris | Bonvilston |
| 2nd | Ram, shearling | J & L Griffiths | Tyhir |
| 3rd | Ram, shearling | R G & R A Jones & Son | Robleston |
Ram Lamb
| Placing | Class | Exhibitor | Flock Name |
| --- | --- | --- | --- |
| 1st | Ram Lamb | J & L Griffiths | Tyhir |
| 2nd | Ram Lamb | Henry Bennett | Springwood X |
| 3rd | Ram Lamb | R G & R A Jones & Son | Robleston |
| 4th | Ram Lamb | Michael James | Duhonw |
| 5th | Ram Lamb | G G & C B Morris | Lower Drostre |
| 6th | Ram Lamb | D P May | Derwenlas |
Ewe, two shear or over, shown out of wool
| Placing | Class | Exhibitor | Flock Name |
| --- | --- | --- | --- |
| 1st | Ewe, two shear or over | D P May | Derwenlas |
| 2nd | Ewe, two shear or over | T R & J Harris | Bonvilston |
| 3rd | Ewe, two shear or over | E W & S A Bennett | Springwood |
| 4th | Ewe, two shear or over | R G & R A Jones & Son | Robleston |
| 5th | Ewe, two shear or over | Sian Thomas | Sawdde |
| 6th | Ewe, two shear or over | R G & R A Jones & Son | Robleston |
Ewe, shearling, shown out of wool
| Placing | Class | Exhibitor | Flock Name |
| --- | --- | --- | --- |
| 1st | Ewe, shearling | Sophie Harding | Shrewbridge |
| 2nd | Ewe, shearling | T R & J Harris | Bonvilston |
| 3rd | Ewe, shearling | Maria Richards | Mcffi |
| 4th | Ewe, shearling | Sophie Harding | Shrewbridge |
| 5th | Ewe, shearling | R G & R A Jones & Son | Robleston |
| 6th | Ewe, shearling | R G & R A Jones & Son | Robleston |
Ewe Lamb
| Placing | Class | Exhibitor | Flock Name |
| --- | --- | --- | --- |
| 1st | Ewe Lamb | Maria Richards | Mcffi |
| 2nd | Ewe Lamb | J & L Griffiths | Tyhir |
| 3rd | Ewe Lamb | R G & R A Jones & Son | Robleston |
| 4th | Ewe Lamb | R G & R A Jones & Son | Robleston |
| 5th | Ewe Lamb | G G & C B Morris | Lower Drostre |
| 6th | Ewe Lamb | E W & A S Bennett | Springwood |
Group of Three
| Placing | Class | Exhibitor | Flock Name |
| --- | --- | --- | --- |
| 1st | Group of Three | J & L Griffiths | Tyhir |
| 2nd | Group of Three | R G & R A Jones & Son | Robleston |
Bluefaced Champions
| Category | Exhibitor | Type |
| --- | --- | --- |
| Overall Breed Champion & Male Champion | T R & J Harris, Bonvilston | First Prize Shearling Ram |
| Res. Overall Breed Champion & Female | D P May, Dewenlas | First Prize Ewe, 2 Shear or over |
| Reserve Champion Male | J & L Griffiths, Tyhir | First Prize Ram Lamb |
| Reserve Champion Female | Sophie Harding, Shrewbridge | First Prize Shearling Ewe |
Gallery
Back to Archive