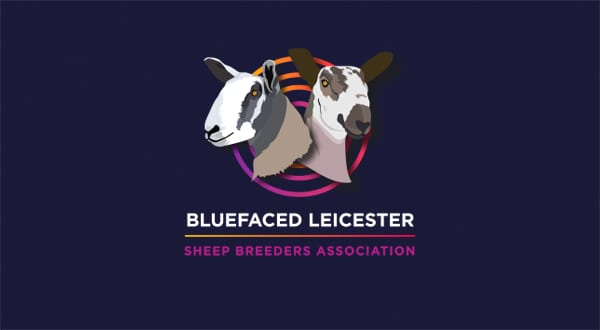 Scottish Progeny Show
4th - 5th August 2013
Turriff
Mr J Sharp, Newbigging Walls
Scottish Progeny Show 2013
The Bluefaced Leicester Association had their second Northern Progeny Show at Turriff following on from last year's inaugural event celebrating the Association's 50th Anniversary. A great turn out of sheep were judged by Mr J Sharp, Newbigging Walls flock, Berwickshire.
Champion in the individual section was a very sharp ewe lamb from Matthew and Caroline Milne's Speymouth flock. This flock was formed only eight months ago with two foundation ewes purchased privately from Ian Minto's  Town Head Farm flock. The Champion lamb was sired by Riddings D6 and out of a ewe sired by Cottage "Cocky Boy" Y1. The first prize tup lamb was out of the other ewe bought from Ian Minto, not a bad start to their show career!
Reserve Champion came from Duncan and Mary MacNiven's  High Craigs flock with a strong ewe sired by Ewanston  Y18, a stock ram purchased from Robin Thompson after he put his flock in lamb to him before its dispersal. Her dam was a ewe purchased at Glen Shapiro's Hazelwood dispersal sired by Barlaes T5.
The Reserve Champion from Duncan and Mary MacNiven was teamed with a ewe of the same breeding to create a tremendous pair of ewes  that went on to win the Progeny Show Championship. Reserve in the progeny section was Ian Ogg's Carroch flock with three ram lambs with their sire, Riddings E1 bought at Hawes for £4,000 last year by Midlock C3. All three lambs were out of home bred ewes.
Ram Above One Shear
| Placing | Class | Exhibitor | Flock Name |
| --- | --- | --- | --- |
| 1st | Ram Above One Shear | M Seed | Auchry |
| 2nd | Ram Above One Shear | G MacKenzie | Druim |
| 3rd | Ram Above One Shear | J Proctor | Aucharnie |
Shearling Ram
| Placing | Class | Exhibitor | Flock Name |
| --- | --- | --- | --- |
| 1st | Shearling Ram | W & C Ingram | Logie Durno |
| 2nd | Shearling Ram | G Ogg & Son | Carroch |
| 3rd | Shearling Ram | D & M MacNiven | High Craigs |
Ram Lamb
| Placing | Class | Exhibitor | Flock Name |
| --- | --- | --- | --- |
| 1st | Ram Lamb | C Milne | Speymouth |
| 2nd | Ram Lamb | J Hunter | Glen |
| 3rd | Ram Lamb | J Hunter | Glen |
Ewe
| Placing | Class | Exhibitor | Flock Name |
| --- | --- | --- | --- |
| 1st | Ewe | D & M MacNiven | High Craigs |
| 2nd | Ewe | G MacKenzie | Druim |
| 3rd | Ewe | D & M MacNiven | High Craigs |
Shearling Gimmer
| Placing | Class | Exhibitor | Flock Name |
| --- | --- | --- | --- |
| 1st | Shearling Gimmer | J Hunter | Glen |
| 2nd | Shearling Gimmer | J Hunter | Glen |
| 3rd | Shearling Gimmer | M Seed | Auchry |
Ewe Lamb
| Placing | Class | Exhibitor | Flock Name |
| --- | --- | --- | --- |
| 1st | Ewe Lamb | C Milne | Speymouth |
| 2nd | Ewe Lamb | J Hunter | Glen |
| 3rd | Ewe Lamb | M Seed | Auchry |
Group Of Four
| Placing | Class | Exhibitor | Flock Name |
| --- | --- | --- | --- |
| 1st | Group Of Four | D & M MacNiven | High Craigs |
Pair of Ram Lambs
| Placing | Class | Exhibitor | Flock Name |
| --- | --- | --- | --- |
| 1st | Pair of Ram Lambs | J Hunter | Glen |
Progeny Show - Pair of Ewes Sired By The Same Sire
| Placing | Class | Exhibitor | Flock Name |
| --- | --- | --- | --- |
| 1st | Pair of Ewes Sired By The Same Sire | D & M MacNiven | High Craigs |
| 2nd | Pair of Ewes Sired By The Same Sire | G MacKenzie | Druim |
| 3rd | Pair of Ewes Sired By The Same Sire | M Seed & Son | Auchry |
Progeny Show - Pair of Gimmers Sired By The Same Sire
| Placing | Class | Exhibitor | Flock Name |
| --- | --- | --- | --- |
| 1st | Pair of Gimmers Sired By The Same Sire | J Hunter | Glen |
| 2nd | Pair of Gimmers Sired By The Same Sire | M Seed & Son | Auchry |
| 3rd | Pair of Gimmers Sired By The Same Sire | G MacKenzie | Druim |
Progeny Show - Three Ram Lambs Sired By The Same Sire - Shown with Sire
| Placing | Class | Exhibitor | Flock Name |
| --- | --- | --- | --- |
| 1st | hree Ram Lambs Sired By The Same Sire | G Ogg & Son | Carroch |
| 2nd | hree Ram Lambs Sired By The Same Sire | M Seed & Son | Auchry |
| 3rd | hree Ram Lambs Sired By The Same Sire | G MacKenzie | Druim |
Progeny Show - Three Ewe Lambs Sired By The Same Sire - Shown with Sire
| Placing | Class | Exhibitor | Flock Name |
| --- | --- | --- | --- |
| 1st | Three Ewe Lambs Sired By The Same Sire | M Seed & Son | Auchry |
| 2nd | Three Ewe Lambs Sired By The Same Sire | D & M MacNiven | High Craigs |
| 3rd | Three Ewe Lambs Sired By The Same Sire | G MacKenzie | Druim |
Progeny Show - A Bluefaced Leicester Lamb or Mature Sheep Shown with its Sire
| Placing | Class | Exhibitor | Flock Name |
| --- | --- | --- | --- |
| 1st | A Bluefaced Leicester Lamb or Mature Sheep Shown with its Sire | D & M MacNiven | High Craigs |
| 2nd | A Bluefaced Leicester Lamb or Mature Sheep Shown with its Sire | M Seed & Son | Auchry |
Bluefaced Champions
| Category | Exhibitor | Type |
| --- | --- | --- |
| Breed Champion | C Milne | Ewe Lamb |
| Res. Breed Champion | D & M MacNiven | Ewe |
| Champion Progeny Group | D & M MacNiven | Pair of Ewes Sired By The Same Sire |
| Res. Champion Progeny Group | G Ogg & Son | hree Ram Lambs Sired By The Same Sire, Shown with Sire |
Back to Archive