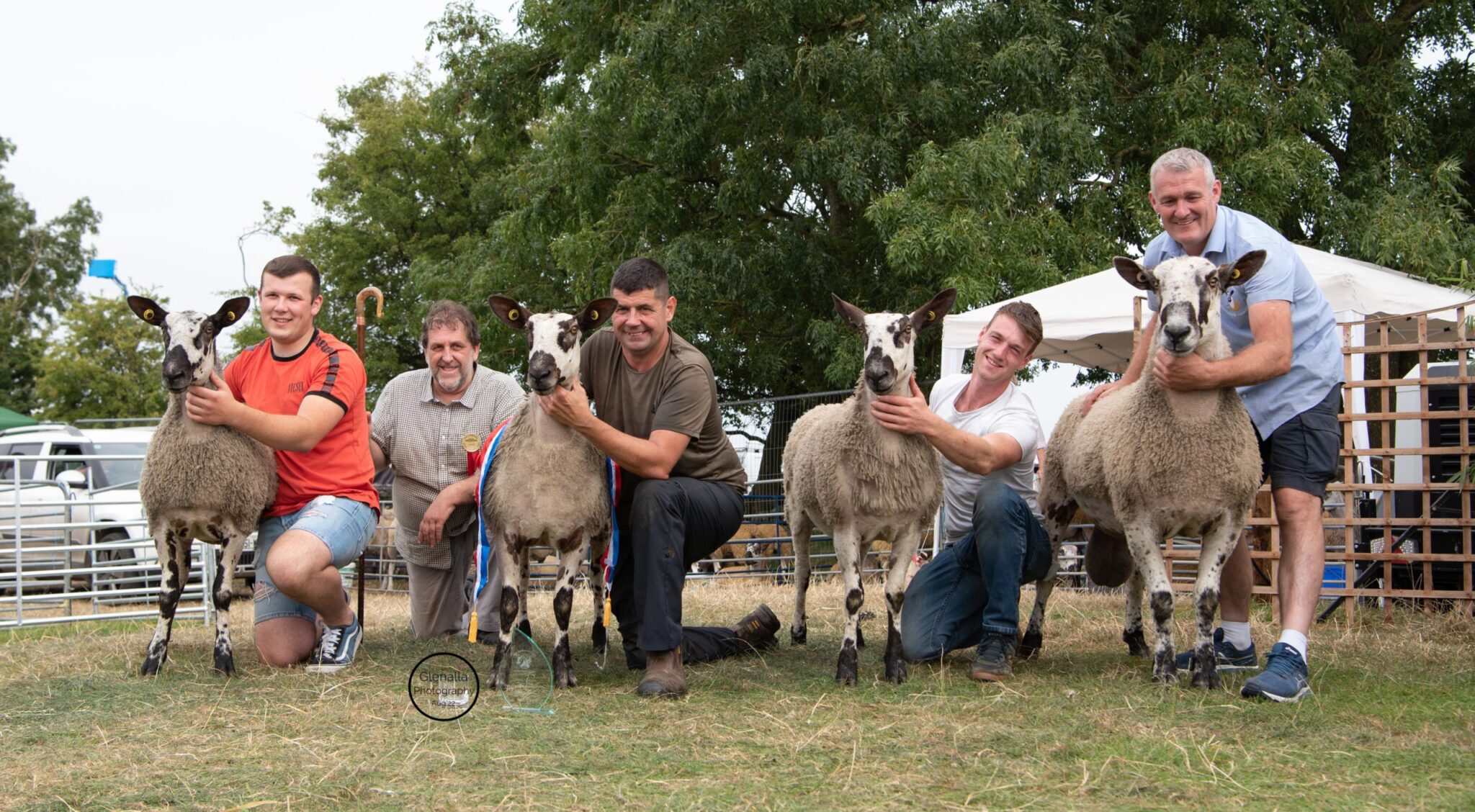 Tullamore Show & South of Ireland Progeny Show
14th August 2022
Tullamore Show
Mr Myrfyn Roberts, Myfyrian
Tullamore Show took place on Sunday 14th August.  A very warm day saw people from all over Ireland swarm to the Showgrounds.
Judge was Myrfyn Roberts from Wales who worked determinedly through the heat of the day to select his champions in both Bluefaced Leicester and Mule Sections.
The Bluefaced Leicester champion was a hogget ewe shown by Paul Sammon of the Firmount Flock.  This ewe hog had caught the eye of the judge earlier in the day for her style and presence in her own class and was a worthy recipient of the championship.  She was got by N001 Drummuck bought by Paul 2 years ago in Ballymena who is proving to be very influential in the Firmount Flock.  Reserve Champion was from the Mask View Flock of Tom Staunton, an aged ewe by M002 Holmview and whose dam was by K001 Mullaghwee.
Moving on to the Bluefaced Leicester Progeny Group again saw Paul Sammon getting the honours and not surprising saw N001 Drummuck standing alongside 3 very smart crossing hogget ewes which included the days overall individual champion.  Reserve in this class was given to first time exhibitor at the show, Tommie and Shauna Fitzmaurice of the Drinane Flock in Galway with their aged Tup N011 Orraview standing alongside 3 of his pedigree ewe lambs.
A suitable ending to the show saw the Mule Progeny Selection.  This followed the Mule Ewe lamb class which was the largest class of the day which is always contested by many of the country's top mule producers.  Champion in this Progeny class was exhibited by Kieran & Patrick McGrath of the Caoramor Flock in Donegal with their Year Old ram P006 Drummuck bought last year in Ballymena standing alongside his 3 mule ewe lambs, 2 of which had stood 1st and 4th in the earlier Mule Ewe lamb class.
Aged Ram
| Placing | Class | Exhibitor | Flock Name |
| --- | --- | --- | --- |
| 1st | Aged Ram | Tom Staunton | Mask View |
| 2nd | Aged Ram | K J & P McGrath | Caoramor |
| 3rd | Aged Ram | Tom Staunton | Mask View |
| 4th | Aged Ram | Paul Sammon | Firmount |
Shearling Ram
| Placing | Class | Exhibitor | Flock Name |
| --- | --- | --- | --- |
| 1st | Shearling Ram | Paul Sammon | Firmount |
| 2nd | Shearling Ram | K J & P McGrath | Caoramor |
Aged Ewe
| Placing | Class | Exhibitor | Flock Name |
| --- | --- | --- | --- |
| 1st | Aged Ewe | Tom Staunton | Mask View |
| 2nd | Aged Ewe | Paul Sammon | Firmount |
| 3rd | Aged Ewe | James McCaffrey | Ominey |
| 4th | Aged Ewe | Paul Sammon | Firmount |
Shearling Ewe
| Placing | Class | Exhibitor | Flock Name |
| --- | --- | --- | --- |
| 1st | Shearling Ewe | Paul Sammon | Firmount |
| 2nd | Shearling Ewe | Paul Sammon | Firmount |
| 3rd | Shearling Ewe | James McCaffrey | Ominey |
| 4th | Shearling Ewe | Paul Sammon | Firmount |
Ram Lamb
| Placing | Class | Exhibitor | Flock Name |
| --- | --- | --- | --- |
| 1st | Ram Lamb | Tom Staunton | Mask View |
| 2nd | Ram Lamb | Paul Sammon | Firmount |
| 3rd | Ram Lamb | Tom Staunton | Mask View |
| 4th | Ram Lamb | Tom Staunton | Mask View |
Ewe Lamb
| Placing | Class | Exhibitor | Flock Name |
| --- | --- | --- | --- |
| 1st | Ewe Lamb | Paul Sammon | Firmount |
| 2nd | Ewe Lamb | Shauna Fitzmaurice | Drinane |
| 3rd | Ewe Lamb | Paul Sammon | Firmount |
| 4th | Ewe Lamb | Tom Staunton | Mask View |
Progeny - Registered Bluefaced Leicester Ram with 3 Purebred Ewe Hoggets
| Placing | Class | Exhibitor | Flock Name |
| --- | --- | --- | --- |
| 1st | Ram with 3 Ewe Hoggets | Paul Sammon | Firmount |
Progeny - Registered Bluefaced Leicester Ram with 3 Purebred Ram Lambs
| Placing | Class | Exhibitor | Flock Name |
| --- | --- | --- | --- |
| 1st | Ram with 3 Ram Lambs | Tom Staunton | Mask View |
| 2nd | Ram with 3 Ram Lambs | Shauna Fitzmaurice | Drinane |
| 3rd | Ram with 3 Ram Lambs | Paul Sammon | Firmount |
Progeny - Registered Bluefaced Leicester Ram with 3 Purebred Ewe Lambs
| Placing | Class | Exhibitor | Flock Name |
| --- | --- | --- | --- |
| 1st | Ram with 3 Ewe Lambs | Shauna Fitzmaurice | Drinane |
| 2nd | Ram with 3 Ewe Lambs | Paul Sammon | Firmount |
| 3rd | Ram with 3 Ewe Lambs | Tom Staunton | Mask View |
Progeny - Registered Bluefaced Leicester Ram with 3 Mule Ewe Lambs
| Placing | Class | Exhibitor | Flock Name |
| --- | --- | --- | --- |
| 1st | Ram with 3 Mule Ewe Lambs | K J & P McGrath | Caoramor |
| 2nd | Ram with 3 Mule Ewe Lambs | Tom Staunton | Mask View |
| 3rd | Ram with 3 Mule Ewe Lambs | Tom Staunton | Mask View |
Bluefaced Champions
| Category | Exhibitor | Type |
| --- | --- | --- |
| Overall Champion | Paul Sammon | Shearling Ewe |
| Reserve Overall Champion | Tom Staunton | Aged Ewe |
| Overall Champion Progeny Group | Paul Sammon | Ram with 3 Ewe Hoggets |
| Reserve Overall Champion Progeny Group | Shauna Fitzmaurice | Ram with 3 Ewe Lambs |
Gallery
Back to Archive