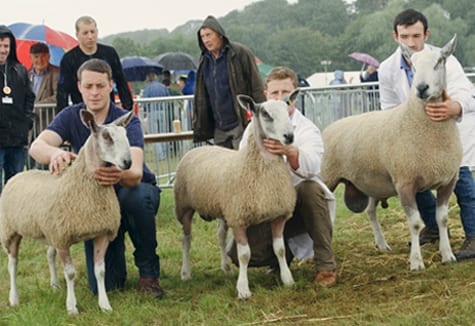 Scottish Progeny Show – Traditional
31st July 2017
Turriff
G Mackenzie, Druim
The Bluefaced Leicester Sheep Breeders' Association held their annual Scottish Progeny Show this year within Turriff Show on Monday 31st July.
The classes were split again this year with sections for both Traditional and Crossing Type.
Judging the Traditional section this year was Mr Gordon MacKenzie, Broomhill Farm, Muir of Ord. In the show classes Mr MacKenzie found his Overall Champion in an eye catching homebred shearling tup from M & C Drummond, Cassington. The tup is sired by Auchry/H3 and out of an 11 crop ewe, and has been successfully shown this year achieving first in a good strong class at the Royal Highland Show and Interbreed Champion at Stranraer Show last week. The ram will be for sale at this year's Kelso Ram Sale on September 8th.
Reserve Overall Champion was awarded to the female champion, a sharp gimmer from M Seed & Son, Auchry 4447/J34. She is sired by Myfyrian/H1 and she was on her first show outing this season. At the 2016 Turriff Show she was shown successfully as a lamb taking the overall breed title. Her half brother who was also the first prize ram lamb and part of the first prize group of three, and out of a homebred ewe by Craig Yr Orsedd/G2 will be forward for sale at Kelso Ram Sale.
Reserve Male Champion was awarded to the first prize ram above one shear from the Rossiebank flock of Robert Neill, with a homebred ram 840/G11 sired by Mendick D14. The ram has bred exceptionally well within the flock. The Rossiebank flock also took the reserve female prize with their ewe above one shear.
In the Traditional Progeny section, the champion group was awarded to M Seed & Son, Auchry with their pair of lambs by the same sire (shown with sire). They were sired by Myfyrian/H1 who was bought out of Builth Wells as a lamb two years ago for £3600, and reserve group was awarded to a pair of shearing rams by the same sire from R Neill, Rossiebank.
Aged Ram
| Placing | Class | Exhibitor | Flock Name |
| --- | --- | --- | --- |
| 1st | Aged Ram | R Neill | Rossiebank |
| 2nd | Aged Ram | M Seed & Son | Auchry |
| 3rd | Aged Ram | M & C Drummond | Cassington |
Shearling Ram
| Placing | Class | Exhibitor | Flock Name |
| --- | --- | --- | --- |
| 1st | Shearling Ram | M & C Drummond | Cassington |
| 2nd | Shearling Ram | R Neill | Rossiebank |
| 3rd | Shearling Ram | M Seed & Son | Auchry |
Ram Lamb
| Placing | Class | Exhibitor | Flock Name |
| --- | --- | --- | --- |
| 1st | Ram Lamb | M Seed & Son | Auchry |
| 2nd | Ram Lamb | M & C Drummond | Cassington |
| 3rd | Ram Lamb | R Neill | Rossiebank |
Ewe
| Placing | Class | Exhibitor | Flock Name |
| --- | --- | --- | --- |
| 1st | Ewe | R Neill | Rossiebank |
| 2nd | Ewe | M & C Drummond | Cassington |
| 3rd | Ewe | M Seed & Son | Auchry |
Gimmer
| Placing | Class | Exhibitor | Flock Name |
| --- | --- | --- | --- |
| 1st | Gimmer | M Seed & Son | Auchry |
| 2nd | Gimmer | M & C Drummond | Cassington |
| 3rd | Gimmer | R Neill | Rossiebank |
Ewe Lamb
| Placing | Class | Exhibitor | Flock Name |
| --- | --- | --- | --- |
| 1st | Ewe Lamb | M Seed & Son | Auchry |
| 2nd | Ewe Lamb | R Neill | Rossiebank |
| 3rd | Ewe Lamb | M & C Drummond | Cassington |
Progeny Show - Pair Of Ewes By The Same Sire
| Placing | Class | Exhibitor | Flock Name |
| --- | --- | --- | --- |
| 1st | Pair Of Ewes By The Same Sire | R Neill | Rossiebank |
| 2nd | Pair Of Ewes By The Same Sire | M Ross | Clashdorran |
| 3rd | Pair Of Ewes By The Same Sire | R Blackhall | Sheeoch |
Progeny Show - Pair Of Gimmers By The Same Sire
| Placing | Class | Exhibitor | Flock Name |
| --- | --- | --- | --- |
| 1st | Pair Of Gimmers By The Same Sire | M Seed & Son | Auchry |
| 2nd | Pair Of Gimmers By The Same Sire | M & C Drummond | Cassington |
| 3rd | Pair Of Gimmers By The Same Sire | R Neill | Rossiebank |
Progeny Show - Pair Of Shearling Rams By The Same Sire
| Placing | Class | Exhibitor | Flock Name |
| --- | --- | --- | --- |
| 1st | Pair Of Shearling Rams By The Same Sire | R Neill | Rossiebank |
| 2nd | Pair Of Shearling Rams By The Same Sire | D MacNiven | High Craigs |
| 3rd | Pair Of Shearling Rams By The Same Sire | M Ross | Clashdorran |
Progeny Show - Three Ram Lambs By The Same Sire
| Placing | Class | Exhibitor | Flock Name |
| --- | --- | --- | --- |
| 1st | Three Ram Lambs By The Same Sire | M Seed & Son | Auchry |
| 2nd | Three Ram Lambs By The Same Sire | R Neill | Rossiebank |
| 3rd | Three Ram Lambs By The Same Sire | R Blackhall | Sheeoch |
Progeny Show - Three Ewe Lambs By The Same Sire
| Placing | Class | Exhibitor | Flock Name |
| --- | --- | --- | --- |
| 1st | Three Ewe Lambs By The Same Sire | R Neill | Rossiebank |
| 2nd | Three Ewe Lambs By The Same Sire | M Seed & Son | Auchry |
| 3rd | Three Ewe Lambs By The Same Sire | R Blackhall | Sheeocj |
Progeny Show - Pair Of Lambs (Any Sex) By The Same Sire
| Placing | Class | Exhibitor | Flock Name |
| --- | --- | --- | --- |
| 1st | Pair Of Lambs (Any Sex) By The Same Sire | M Seed & Son | Auchry |
| 2nd | Pair Of Lambs (Any Sex) By The Same Sire | R Neill | Rossiebank |
| 3rd | Pair Of Lambs (Any Sex) By The Same Sire | R Blackhall | Sheeoch |
Bluefaced Champions
| Category | Exhibitor | Type |
| --- | --- | --- |
| Breed Champion & Male Champion | M & C Drummond | Shearling Ram |
| Res. Breed Champion & Female Champion | M Seed & Son | Gimmer |
| Res. Female Champion | R Neill | Ewe |
| Res. Male Champion | R Neill | Aged Ram |
| Progeny Champion Group | M Seed & Son | Pair Of Lambs (Any Sex) By The Same Sire |
| Progeny Res. Champion Group | R Neill | Pair Of Shearling Rams By The Same Sire |
Gallery
Back to Archive