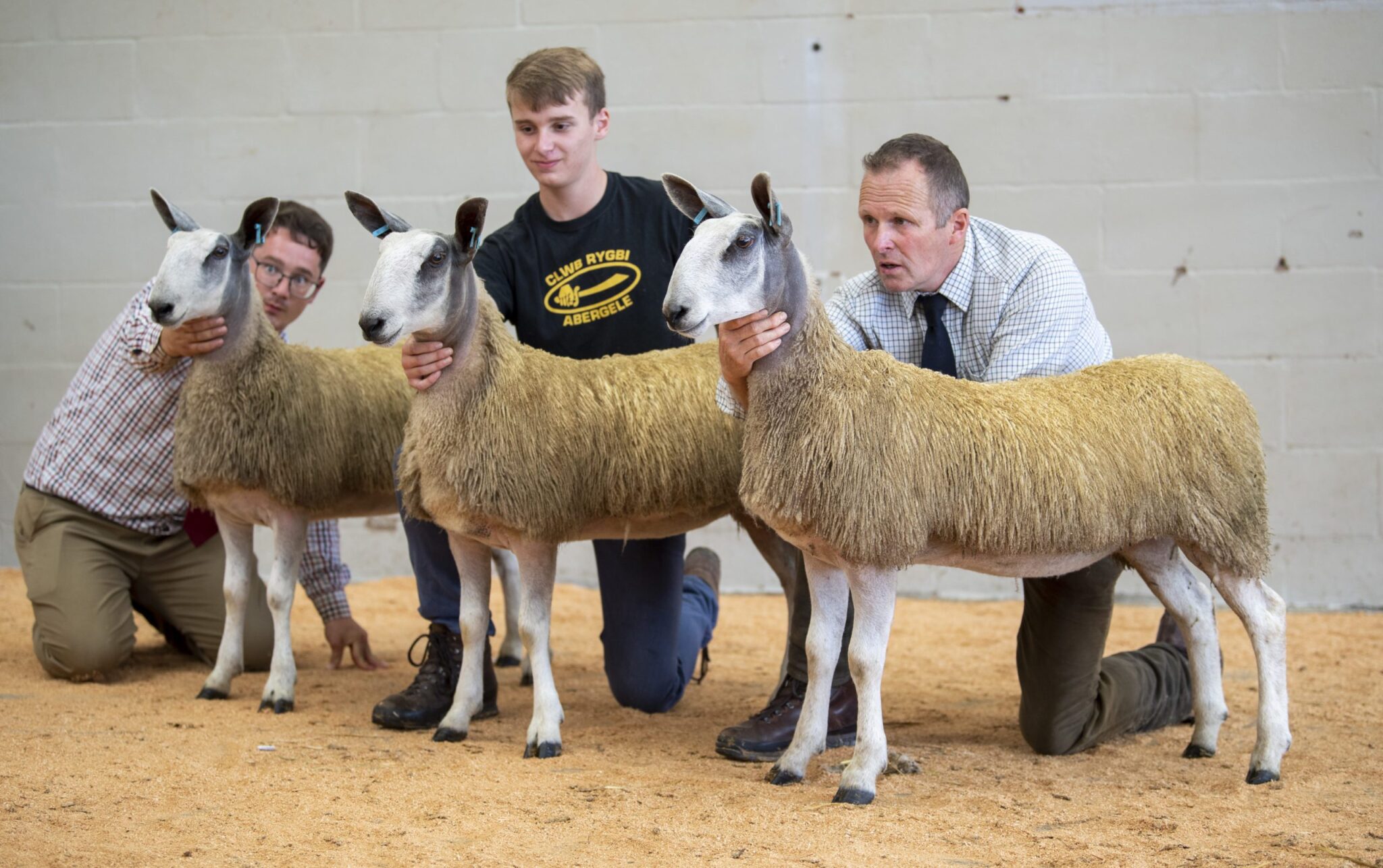 Wales & South West Progeny Show
22nd August 2022
Welshpool
Mrs Kate Smith, Low Arkland (BFL), Mr W Jones, Powys (Mules)
Welshpool progeny Show 2022.
Once again the progeny show was held in Welshpool Livestock mart and drew a good crowd of sheep in, both pures and mules from all over Wales, and some strong classes and with 17 gimmer lambs forward and 11 tup lambs in their respective classes, as well as many other strong classes, there was plenty for judge Kate Smith, Low Arkland, to work her way through.
Her champion from the individual classes came from the gimmer lamb class where Elfyn Owen, Cernyw reigned supreme. His gimmer lamb certainly caught the eye, she was very sweet and full of style and pedigree. She is by the noted D3 Howlea which was bought by son Ifan at Carlisle as a lamb and resold as a two shear, back up at Carlisle, where he took the championship and sold to the Cocklaw flock. He has bred very well for the flock, including a female Champion at the Royal Welsh. The mother of this ewe has breeding going way back, being by a homebred tup lamb, Cernyw T1, which was born in 2002, with a half share sold to Glenn Shapiro, and by the R1 Carry House. Elfyn also took the reserve male champion with a tup lamb by the noted Addingham B1, after they bought a handful of straws last year. Elfyn had always been a fan of the tup, which was sold as a shearling at Kelso, and felt the time was right to put some of those bloodlines into his sheep. His mother again goes back to the Carry House R1.
The male champion and Reserve overall came from Dewi and Meinir Parry, who run a small flock of just 10 ewes, with R2 Nant-y-Glyd, a stonking tup lamb by the noted Kirkstead K3, a son of the Burndale G1, which has had a glittering show career himself, twice taking the championship at the Royal Welsh. His twin brother was the reserve male champion at Anglesey last week. They have admired the Kirkstead tup and his breeding for a while and invested in some semen last year to bring these bloodlines into their flock. He and his brothers will be heading to the Carlisle sale later this autumn.
In the progeny section it was noted breeder Aled Jones, Craig-yr-Orsedd who came out top, taking home the BFL 60th anniversary Sash, which was draped over his 3 smart March born gimmer lambs all sired by Daisy N4, which he bought out of Builth last year off Marcus Williams. He was by a Woodcroft tup which Aled has been keeping an eye on as he seen progeny by him and was impressed with it. Two of the lambs were out of ewes by the homebred J25, which was the sire to the first prize progeny group of gimmer shearlings too, and one was out of a ewe by another homebred tup, H3.
Taking reserve place in the progeny section were Myrfyn and Gareth Roberts from Anglesey, with a pair of performance recorded tup lamb and gimmer lambs, sired by the homebred P1 Myfyrian which they retained last year. He is a son of the M1 Lowes Fell which has being doing well for them. They had a good day out, bringing a full trailer all the way down, and also picked up both champion and reserve in the mule progeny sections too, winning with 3  Beulah mule gimmer lambs by P8 Myfrian X and reserve with 3 cheviot mules by P5 Myfrian.
The mule classes were won by Owain Rowlands, Rhaydaer, who took champion with a white faced mule and then completed a great day by taking the reserve place with a Beulah mule gimmer lamb too.
Aged Ram
| Placing | Class | Exhibitor | Flock Name |
| --- | --- | --- | --- |
| 1st | Aged Ram | T J & L S R Griffiths | Tyhir |
| 2nd | Aged Ram | Phil Davies | Gornal |
| 3rd | Aged Ram | T R Harris | Bonvilston |
| 4th | Aged Ram | H & C Roberts | Prenafal |
| 5th | Aged Ram | S A & R P Jones | Craig Yr Orsedd |
| 6th | Aged Ram | E Owen | Cernyw |
Shearling Ram
| Placing | Class | Exhibitor | Flock Name |
| --- | --- | --- | --- |
| 1st | Shearling Ram | T J & L S R Griffiths | Tyhir |
| 2nd | Shearling Ram | T R Harris | Bonvilston |
| 3rd | Shearling Ram | G Roberts | Myfyrian X |
| 4th | Shearling Ram | M C Roberts | Myfyrian |
| 5th | Shearling Ram | H & C Roberts | Prenafal |
| 6th | Shearling Ram | G Humphreys & Blake Morris | Llys & Wimbolds |
Ram Lamb
| Placing | Class | Exhibitor | Flock Name |
| --- | --- | --- | --- |
| 1st | Ram Lamb | Dewi & Meinir Parry | Nant Y Glyd |
| 2nd | Ram Lamb | E Owen | Cernyw |
| 3rd | Ram Lamb | T R Harris | Bonvilston |
| 4th | Ram Lamb | H & C Roberts | Prenafal |
| 5th | Ram Lamb | T R Harris | Bonvilston |
| 6th | Ram Lamb | T J & L S R Griffiths | Tyhir |
Ram Lamb - Performance Recorded
| Placing | Class | Exhibitor | Flock Name |
| --- | --- | --- | --- |
| 1st | Ram Lamb - Performance Recorded | M C Roberts | Myfyrian |
| 2nd | Ram Lamb - Performance Recorded | E Owen | Cernyw |
| 3rd | Ram Lamb - Performance Recorded | Phil Davies | Gornal |
Aged Ewe - to have reared in 2022
| Placing | Class | Exhibitor | Flock Name |
| --- | --- | --- | --- |
| 1st | Aged Ewe | D P May | Derwenlas |
| 2nd | Aged Ewe | E Owen | Cernyw |
| 3rd | Aged Ewe | D P May | Derwenlas |
| 4th | Aged Ewe | H & C Roberts | Prenafal |
Shearling Ewe
| Placing | Class | Exhibitor | Flock Name |
| --- | --- | --- | --- |
| 1st | Shearling Ewe | T R Harris | Bonvilston |
| 2nd | Shearling Ewe | D P May | Derwenlas |
| 3rd | Shearling Ewe | D P May | Derwenlas |
| 4th | Shearling Ewe | T R Harris | Bonvilston |
| 5th | Shearling Ewe | S A & R P Jones | Craig Yr Orsedd |
| 6th | Shearling Ewe | D P May | Derwenlas |
Ewe Lamb
| Placing | Class | Exhibitor | Flock Name |
| --- | --- | --- | --- |
| 1st | Ewe Lamb | E Owen | Cernyw |
| 2nd | Ewe Lamb | T R Harris | Bonvilston |
| 3rd | Ewe Lamb | E Owen | Cernyw |
| 4th | Ewe Lamb | S A & R P Jones | Craig Yr Orsedd |
| 5th | Ewe Lamb | S A & R P Jones | Craig Yr Orsedd |
| 6th | Ewe Lamb | T J & L S R Griffiths | Tyhir |
BFL Progeny Three Ram Lambs with or without Sire
| Placing | Class | Exhibitor | Flock Name |
| --- | --- | --- | --- |
| 1st | Three Ram Lambs with or without Sire | T R Harris | Bonvilston |
| 2nd | Three Ram Lambs with or without Sire | T R Harris | Bonvilston |
| 3rd | Three Ram Lambs with or without Sire | Messrs Parry & McLeod | Nant Y Glyd & Wanstead |
BFL Progeny Three Shearling Ewes with or without Sire
| Placing | Class | Exhibitor | Flock Name |
| --- | --- | --- | --- |
| 1st | 3 Shearling Ewes | S A & R P Jones | Craig Yr Orsedd |
| 2nd | 3 Shearling Ewes | D P May | Derwenlas |
| 3rd | 3 Shearling Ewes | M C Roberts | Myfyrian |
BFL Progeny Three Ewe Lambs to be shown with or without sire
| Placing | Class | Exhibitor | Flock Name |
| --- | --- | --- | --- |
| 1st | 3 Ewe Lambs | S A & R P Jones | Craig Yr Orsedd |
| 2nd | 3 Ewe Lambs | M C Roberts | Myfyrian |
| 3rd | 3 Ewe Lambs | E Owen | Cernyw |
BFL Progeny Recorded Ram Lamb & Ewe Lamb to be shown sire
| Placing | Class | Exhibitor | Flock Name |
| --- | --- | --- | --- |
| 1st | BFL Progeny Recorded Ram & Ewe Lamb | M C Roberts | Myfyrian |
| 2nd | BFL Progeny Recorded Ram & Ewe Lamb | Phil Davies | Gornal |
Young Handlers
| Placing | Class | Exhibitor | Flock Name |
| --- | --- | --- | --- |
| 1st | Young Handlers | Jack Howells | Bonvilston |
| 2nd | Young Handlers | Amelia Taylor | Derwenlas |
One Mule Ewe to have reared in 2022
| Placing | Class | Exhibitor | Flock Name |
| --- | --- | --- | --- |
| 1st | One Mule Ewe | M C Roberts | Myfyrian |
| 2nd | One Mule Ewe | M C Roberts | Myfyrian |
| 3rd | One Mule Ewe | M C Roberts | Myfyrian |
One Shearling Ewe
| Placing | Class | Exhibitor | Flock Name |
| --- | --- | --- | --- |
| 1st | One Shearling Ewe | S A & R P Jones | Craig Yr Orsedd |
| 2nd | One Shearling Ewe | S A & R P Jones | Craig Yr Orsedd |
| 3rd | One Shearling Ewe | S A & R P Jones | Craig Yr Orsedd |
One Mule Ewe Lamb (Coloured Type)
| Placing | Class | Exhibitor | Flock Name |
| --- | --- | --- | --- |
| 1st | One Mule Ewe Lamb (Coloured Type) | Owain Rowlands | Cadno |
| 2nd | One Mule Ewe Lamb (Coloured Type) | Owain Rowlands | Cadno |
| 3rd | One Mule Ewe Lamb (Coloured Type) | M C Roberts | Myfyrian |
One Mule Ewe Lamb (Whitefaced Type)
| Placing | Class | Exhibitor | Flock Name |
| --- | --- | --- | --- |
| 1st | One Mule Ewe Lamb (Whitefaced Type) | Owain Rowlands | Cadno |
| 2nd | One Mule Ewe Lamb (Whitefaced Type) | Owain Rowlands | Cadno |
| 3rd | One Mule Ewe Lamb (Whitefaced Type) | Owain Rowlands | Cadno |
| 4th | One Mule Ewe Lamb (Whitefaced Type) | M C Roberts | Myfyrian |
Mule Progeny Group Three Mule Ewe Lambs, with sire, Coloured Type
| Placing | Class | Exhibitor | Flock Name |
| --- | --- | --- | --- |
| 1st | 3 Mule Ewe Lambs, Coloured Type | M C Roberts | Myfyrian |
Mule Progeny Group Three Mule Ewe Lambs, with sire, Whitefaced Type
| Placing | Class | Exhibitor | Flock Name |
| --- | --- | --- | --- |
| 1st | 3 Mule Ewe Lambs, Whitefaced Type | M C Roberts | Myfyrian |
Bluefaced Champions
| Category | Exhibitor | Type |
| --- | --- | --- |
| BFL Champion Female | E Owen | Ewe Lamb |
| BFL Reserve Female Champion | T R Harris | 2nd Prize Ewe Lamb |
| BFL Champion Male | Dewi & Meinir Parry | Ram Lamb (open class) |
| BFL Reserve Champion Male | E Owen | 2nd Prize Ram Lamb (open class) |
| BFL Overall Champion | E Owen | Ewe Lamb |
| BFL Reserve Overall Champion | Dewi & Meinir Parry | Ram Lamb (open class) |
| BFL Overall Champion Progeny Group | S A & R P Jones | 3 Ewe Lambs |
| BFL Reserve Overall Champion Progeny Group | M C Roberts | Performance Recorded Ram & Ewe Lamb |
| Mule Champion | Owain Rowlands | Mule Ewe Lamb - Whitefaced Type |
| Reserve Mule Champion | Owain Rowlands | Mule Ewe Lamb - Coloured Type |
| Mule Champion Progeny Group | M C Roberts | 3 Mule Ewe Lambs (coloured type) |
| Mule Reserve Champion Progeny Group | M C Roberts | 3 Mule Ewe Lambs (white faced type) |
Gallery
Back to Archive